Jet Fest Races at Slot Chaos, Labor Day Weekend 2004
Slot Chaos thanks everyone who attended our our first "Jet Fest" ThunderJet races, at the Slot Chaos, Hayes, Virginia. September 4th and 5th saw the first annual races between the Mid Atlantic (MARS) Racers and the local Slot Chaos racers. Big money was on the line, as each group was competing for the Jet Fest Cup, as well as $100 in crisp "Jacksons". The money had to earned however, by finishing well in four classes over the two day race meeting. Each group selected two T-Jet classes to run, MARS ran the BeachJet and TransAm classes, right out of the 2005 MARS rule book. Slot Chaos picked their Stock and Hardbody Super Stock T-Jet classes. Each race consisted of a round robin semi of three minutes and four minute mains for all competitors. Results for each class were the total laps from the semi and mains, which results in points determined by the number of competitors in that race.

First up was the Stock class, the slowest cars with stock JL and Aurora bodies on stock T-Jets with skinny slip ons. They actually seems pretty quick in the hands of MARS racer, Hiram Durant, who ran up the biggest total in the round robin...62 laps. Following was Mark Smith and Tom Bowman at 56 laps, and Vince Battisto and Mike Briggs at 55. The "A" Main again saw Hiram pacing the field with 82 laps in his JL Camaro, followed by Tom's JL Vega at 79 laps, Mike's JL Nova 76, and the Ford crowd of Mark 72 and Vince 71.

Race 2 Saturday night was the BeachJet class, certainly the most popular and widely raced T-Jet class on the East Coast. This was Hiram's and Mike's class, with the rest of the crowd struggling to maintain the pace. In the round robin, Hiram blitzed to an 82 with a Fandango Bimmer and Mike was there with a 78 in his Gogo Merc. Tom 's rice rocket brp Datsun 260Z managed a 74, Brian's brp Porsche 356 was at 72 and Vince's brp Ford GT with 70. Mark Smith ran a collectable Aurora Batmobile, to an excellent 68 laps putting him, top of "B" main. The "C" Main saw Amy Brigg's cute yellow new beetle sprint to 59, ahead of Michelle Edwards Porsche 356 at 57. Ryno Edwards was at 55 laps, with Johnny Robbins at 54 and little Everett Edwards with 41. The "B" Main was Mark's race as the Batmobile demolished the opposition with a a 72 lap run. Ray Etheridge was hanging in there at 70 laps, followed by the major battle with Rose Battisto and Jason Miller at 64 laps. The final event of the evening was the showdown in the "A" Main, with MARS hot shoes, Hiram Durant, Tom Bowman and Mike Briggs against the Slot Chaos hot thumbs of Brian Edwards and Vince Battisto. Mike turned the tables on Hiram and blasted out an 83 lap total, edging Hiram at 82, Tom at 77, Brian 71, and Vince also at 71. Points wise, Hiram lead the MARS crowd with 31 points, with Tom and Mike at 28. For the Slot Chaos Cup, it was tight, with the top three contendors all at 23 points: Mark Smith, Vince Battisto and Brian Edwards. It was quite late as the shop shut for the evening, Hiram was planning on driving back to Maryland...Mike and family were staying in Williamsburg, while his wife worked on a movie set.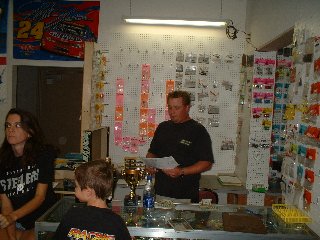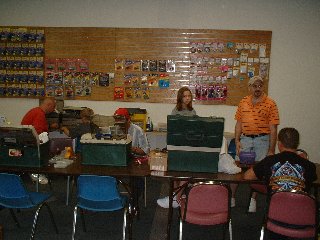 Day two dawned somewhat rainy as bands of Hurricane Frances were hitting Florida hard. Race 3 was the Hardbody Super Stock T-Jet class, which allows BeachJets and Johnny Lightning TuffOnes to compete together. Most of the Slot Chaos runners were using the JL chassis, while the MARS crowd stuck with the tried and true BeachJet. The exception was Brian Edwards running his brp Porsche 356 with T-Jet power and Tom Bowman running a 12 tooth JL chassis under a brp Datsun 260Z. Hiram had decided to return for the second day of the battle for the Mid Atlantic Cup. Hiram lead the way in the round robin with a ballistic 83 lap total, Mike was at 80, Tom at 78, Mark at 71, Brian 70, Vince 68, Jason 67, Ray 67, Rose 65, Michelle 58, Ryno 57, Johnny 56 and Everett 50. The "C" Main was a hard fought battle between mother and son, they tied at 59 laps, but Michelle edged Ryno by sections to take the family win! The "B" Main, turned out to be a close run as Jason got 71, over Rose at 67 and Ray with 65. Vince retired with a DNF. The "A" Main was a prototypical barn burner, as the MARS runners were showing how tight the coming season will be! The top three were separated by sections as the BeachJets battled the JL bullet! Hiram came out on top with 81 laps 54 sections, Tom at 81 and 39 sections, Mike at 81 and 15 sections. Slot Chaos shop owners had their own battle, with Brian edging Mark by 5 track sections! Can you spell "Intensity"...well I can't! Certainly this was the most competitive racing to be held on this track!
---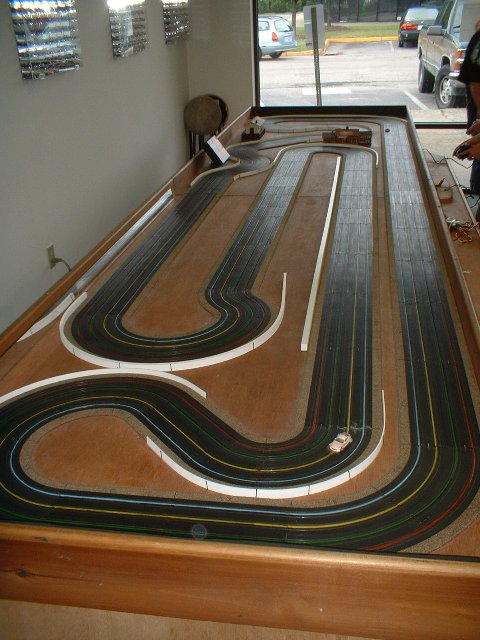 ---
The challenge of the Jet Fest Cup was now down to the final event, the tricky to handle, overpowered, TransAm class. This MARS class, is limited to an 1 3/16" width, but power is not limited as it has the most wide open rules on armatures, magnets and gears. So the showdown commenced with the most difficult class as the weapon. The Round Robin saw MARS Vintage class champion, Tom Bowman, take the lead with 75 lap run, followed by Hiram Durant at 72, MARS BeachJet champion Mike Briggs 71, Jason Miller 67, Ronnie Jamerson 66, Rose Battisto 62, Mark Smith 61, Ray Etheridge 61, Johnny Robbins 57, Ryno Edwards 43, Everett Edwards 40 and Michelle Edwards dnf. The "C" Main was going to be a crazy race, these cars are very hard to handle under the best of drivers fingers...but the "C" Main crowd has some really heavy fingers! Johnny Robbins pulled out the win, by keeping the car in the slot better than his competitors with 50 laps. Everett beat his bigger brother, Ryno, 47 laps to 42. The "B" Main had Ronnie Jamerson beating Rose Battisto by 8 sections, both with 65 laps. Ray Etheridge had 62, and Mark 59. The "A" Main was going to be a "Battle Royale" for the Jet Fest Cup, Slottech driver, Jason Miller, was joining the MARS threesome to decide the outcome. The first segment had everyone with 18, with Mike trailing a lap. Tom and Mike both ran 19 in the second segment. The third segment, Tom ran a 20 on the yellow hammer lane, to grab the lead. The final segment saw a 20 from Hiram on Yellow, but Tom was back a lap at 19 with Mike. The final totals had Tom taking the TA win with 76 laps, Hiram 74, Mike 72 and Jason 68.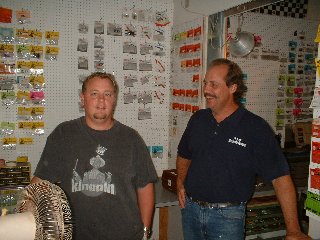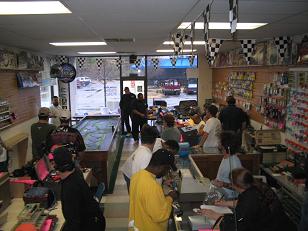 The overall point totals: Jet Fest races

1-  Hiram Durant     MARS         54 points
2-  Tom Bowman       MARS         51
3-  Mike Briggs      MARS         50
4-  Mark Smith       SlotChaos    38
5-  Jason Miller     SlotChaos    35
6-  Brian Edwards    SlotChaos    32
7-  Ray Etheridge    SlotChaos    30
8-  Rose Battisto    SlotChaos    26
9-  Vince Battisto   SlotChaos    24
10- Michelle Edwards SlotChaos    20
11- Johnny Robbins   SlotChaos    18
12- Ryne Edwards     SlotChaos    13
13- Everett Edwards  SlotChaos    10
14- Ronnie Jamerson  SlotChaos     8
15- Amy Briggs       MARS          7
16- Mark Tutton      MARS          6
17- Joe Hopkins      MARS          2

---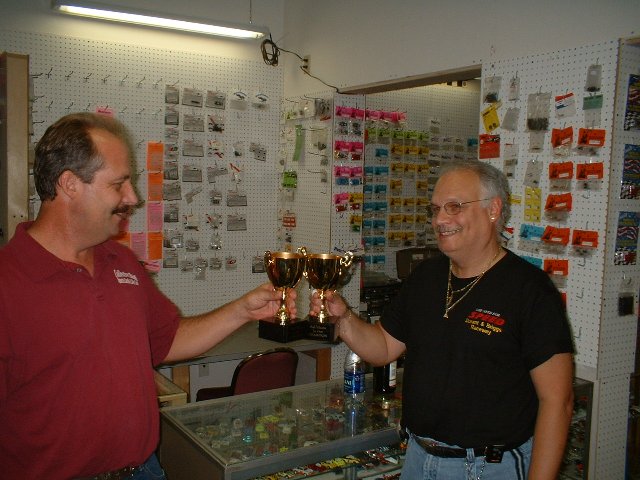 Mark Smith, Cup winner for Slot Chaos, toasts Hiram Durant, Cup winner for Mars! Cheers everyone for a fun event!