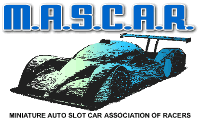 M.A.S.C.A.R. Races at the Crab Shack!
M.A.S.C.A.R. invites everyone to our races, at Jeff Crabtree's raceway in Gloucester, VA.
4' x 16', Tomy Track, TrackMate Lap Counting System
We will have open practice Friday Night. Doors open at 6:00pm til 
10:00pm......
Doors Open Saturday 8:00am
Tech starts at 11:30am
Racing starts at 12:00pm

My Address:
6930 Enfield Rd. 
Gloucester Va 23061

Cell: 804-832-2839

This is a single lane dirt road. Parking space is limited . Car pooling should be a thought. 
My cell number is 804-832-2839 for those who get lost. ( it is very easy to do)
If you know how to get to Marks house, I shouldnt be to difficult to find.
.

Questions: Please direct any questions pertaining to the race to:
crabzilla41@yahoo.com

Click on the map for directions!