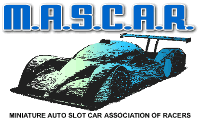 MASCAR 1: a photo report by Tom Bowman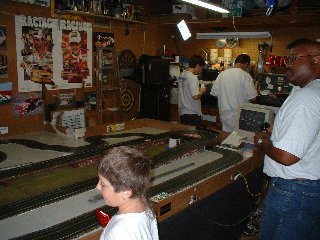 The opening round of MASCAR's third season took place on a beautiful day in Virginia Beach at Kempsville Motor Speedway. This is Shawn "Mister On-Slot" Molter's 5x12 foot track in his parent's garage. This Tomy track is a great test of speed and handling, as we shall see! The North Carolina racers out numbered the local Virginia crowd, so interstate rivalries were going to be intense but friendly!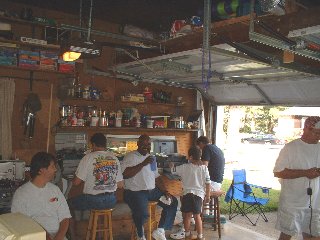 MASCAR is all about inclusion as the T-Jet racers and magnet car racers love to race each others choice of favorite car.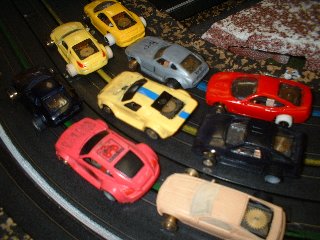 For a small track, it was unusual to have everyone but James Kennedy and Shawn Molter with 12 and 14 tooth pinions. The North Carolina runners generate huge speed with their big gears, and handling isn't affected apparently. After a two minute round robin, Vernon Dew was top dog with a 50 lap 54 section run. Tom Bowman was back on section 18, James was on lap 49 ahead of Ron.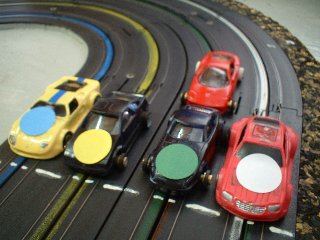 Shawn's Yellow brp Ford GT on the left, Joe's brp Dodge Daytona, Zack's brp Datsun 260Z, Bob's brp Crossfire GT and Lewis' Greg Davis Ferrari Maranello.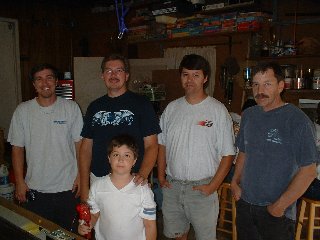 Shawn dominated the B Main, which was run for 3 minutes. Shawn got 73.11 laps, followed by Lewis Wuori with 71.19, Bob Hall at 69.26, Joe Cassiba at 61.4 and Zack Cassiba with 40.10.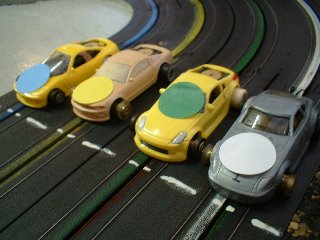 From the left, Vern's Greg Davis Ferrari Maranello, James' GOGO 2005 Ford Mustang, Ron's Fandango Nissan 350Z and Tom's brp Datsun 260Z.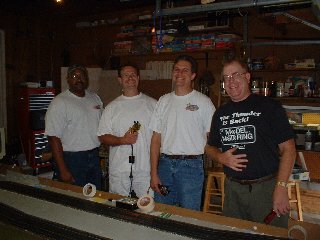 Ron Brna served notice in the first segment with a 21 lap run and the rest trailing at 19, as the A Main got started. Things stayed close until the last segment when Vern and James turned 20 on the middle lanes, and Tom had a bad run on blue with 16. That gave Ron the win with a 78.21 total, followed by Vern at 76.63, James at 76.2 and Tom at 73.66.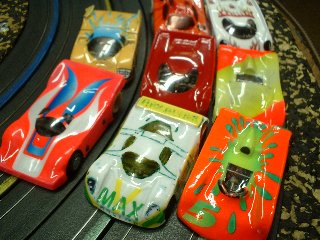 Super Stock was going to be interesting as the new Wizzard Storm and Slottech Thundercat T1, were making their Virginia debut in Super Stock form. We had 8 runners for this race, 3 running the Thundercat and 3 running the Storm and 2 with the BSRT G3. A 3 minute round robin, saw Vern's G3 set the pace with a 171.46 total. Bob Hall was giving chase at 165.36, Tom Bowman a 158.65 with a new off the wall stock Storm, and Shawn Molter's 158.62 Thundercat, just 3 sections back of Tom.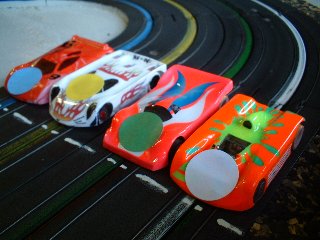 Some nice paint jobs! Ron's flamed Storm body and James Jay Jaap masterpiece, joining Lewis' soft flames and Joe's Mercedes CLK.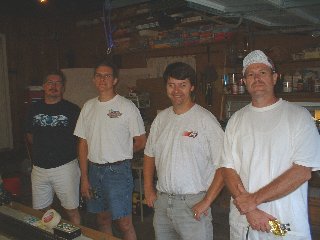 The B Main saw a dominant run by James Kennedy, not often relegated to the B, 273.58. This is not really a problem, because MASCAR awards points based on lap totals. Joey was back at 262.11, Ron at 247.48 and Lewis at 225.18.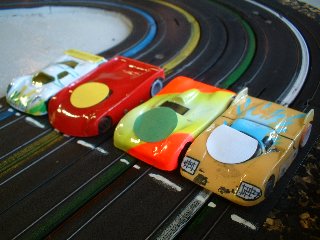 From the left: Vern's VMAX bod, Tom's stock Storm, Shawn's well known paint scheme and Bob's Porsche 962.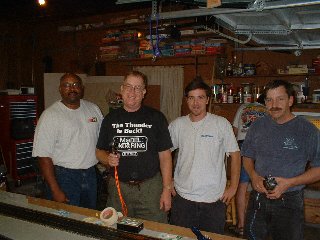 The A Main started with a strong run by Shawn on Green with 76, followed by Tom in Yellow at 68, Vern in blue at 65 and Bob 64 on white. The second segment was pivotal as Bob uncorked a 78 on green, Vernon a 70 on white, Tom a 64 on blue and Shawn a pitiful 61 on yellow, as body problems slowed his normal pace. The fire was back in the third segment as Shawn ran 72 in blue, Vern another 70 in Green, Bob a 68 in yellow and Tom a 61 on white. The last segment was exciting racing as Vernon paced the field with a 72 in yellow, Tom was trying to run with Vernon but crashing too much at a 68 lap total. Shawn also finished with a 68 on white and Bob a 67 on blue.

So here is how they sat at the end of the A main, all at 277 laps! Shawn won the race by 3 sections over Bob, and Vernon another tick back. Tom fell behind James and Joe from the B Main, with a 261.16 total.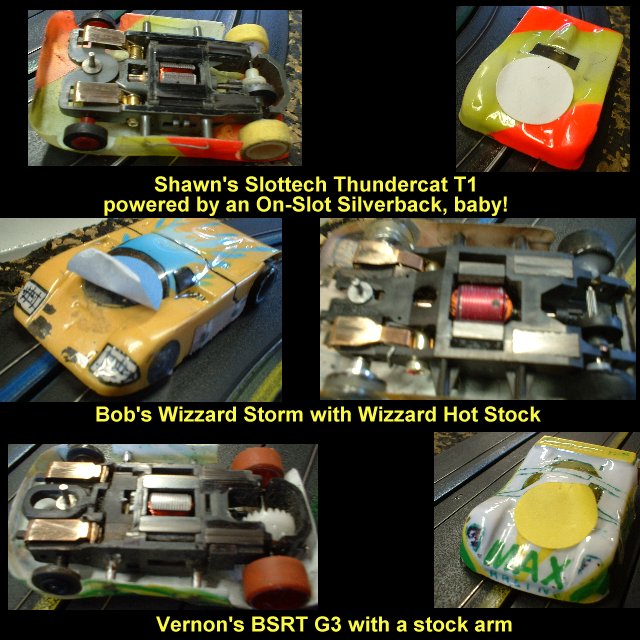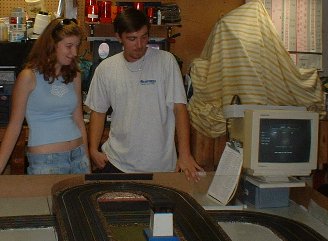 Shawn's girlfriend, Lena, brightened the day with her presence!
MASCAR Homepage