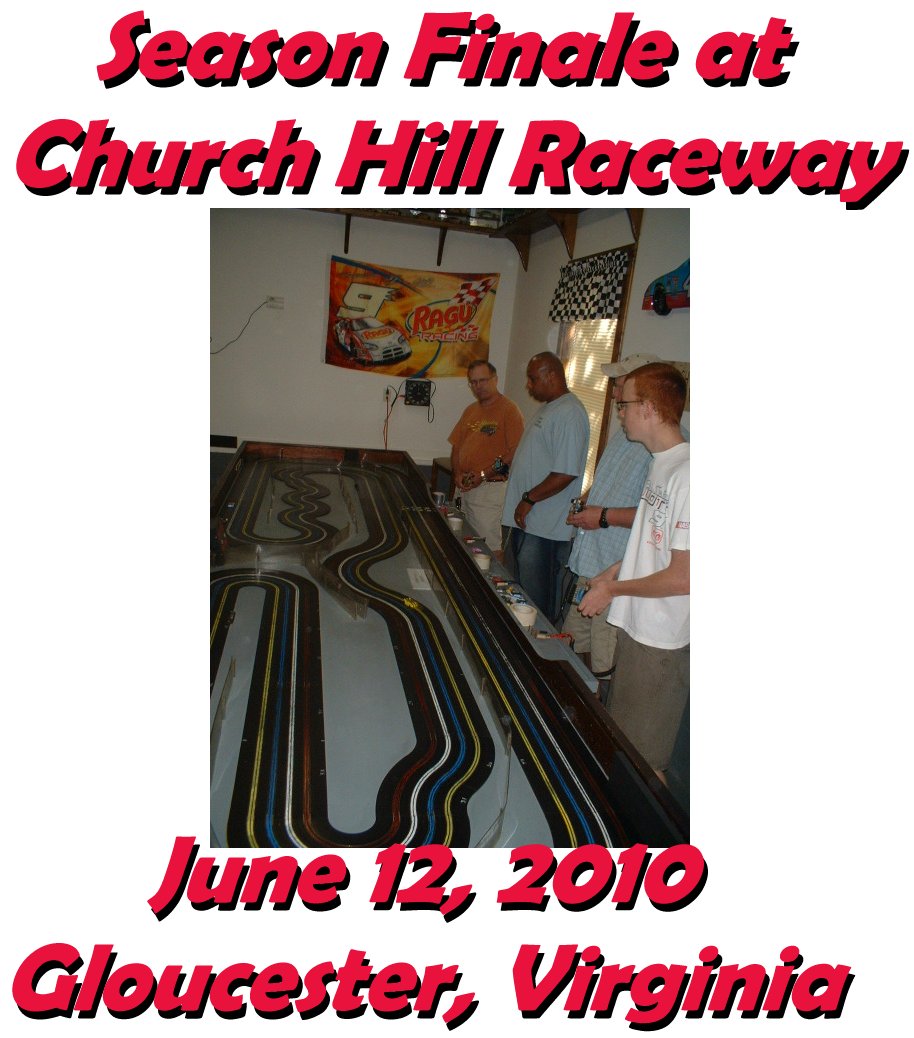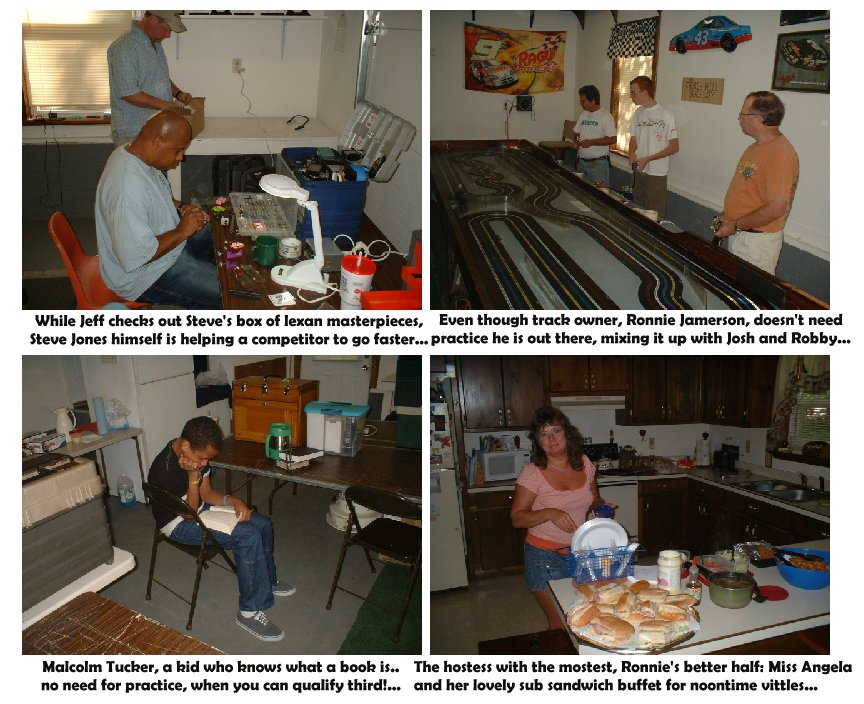 First round to determine order in the Round Robin
Qualifying - 30 sec run

1- Mark Smith 8.11 laps
2- Steve Jones 8.09
3- Malcom Tucker 7.36
4- Ronnie Jamerson 7.35
5- Marshall Tucker 7.28
6- Tim Keevin 7.11
7- Tom Bowman 7.07+
8- Jeff Crabtree 7.07
9- Dan Mueller 7.06
10- Josh Bowman 6.48
11- Robby Whiteed 6.28
12- Chris Mueller 6.22
13- Dale White 6.14
Next race determines the mains placement.
Round Robin - 2.5 minutes
1- Ronnie Jamerson 156.37
2- Steve Jones 156.03
3- Mark Smith 153.34
4- Jeff Crabtree 151.13
5- Josh Bowman 138.38
6- Tim Keevin 137.08
7- Dan Mueller 136.47
8- Tom Bowman 136.04
9- Robby Whiteed 135.26
10- Marshall Tucker 130.07
11- Chris Mueller 122.40
12- Dale White 118.41
13- Malcolm Tucker 114.29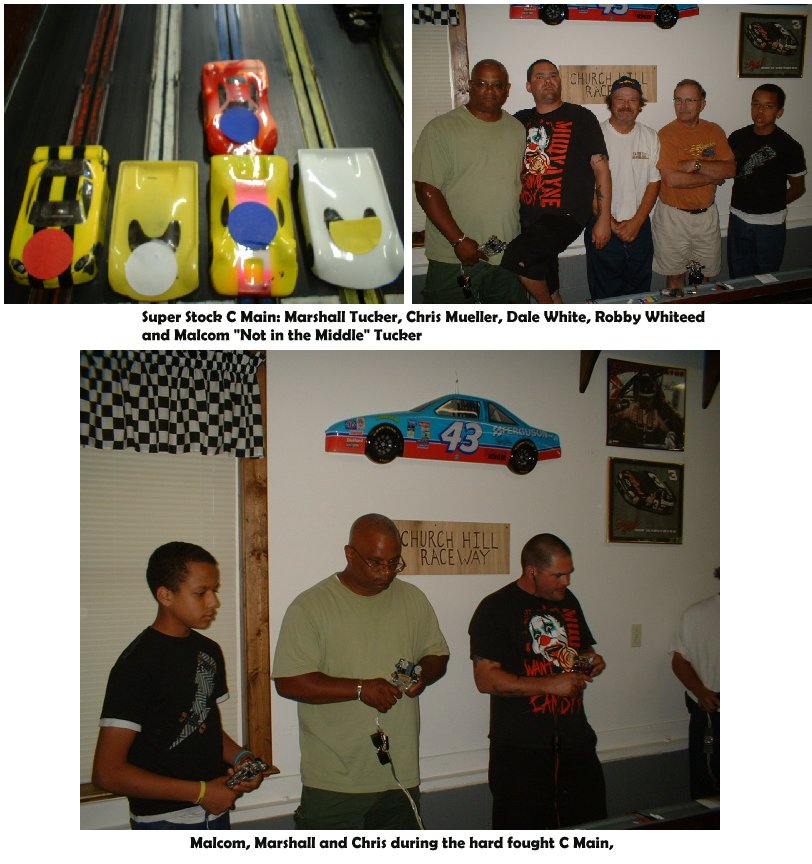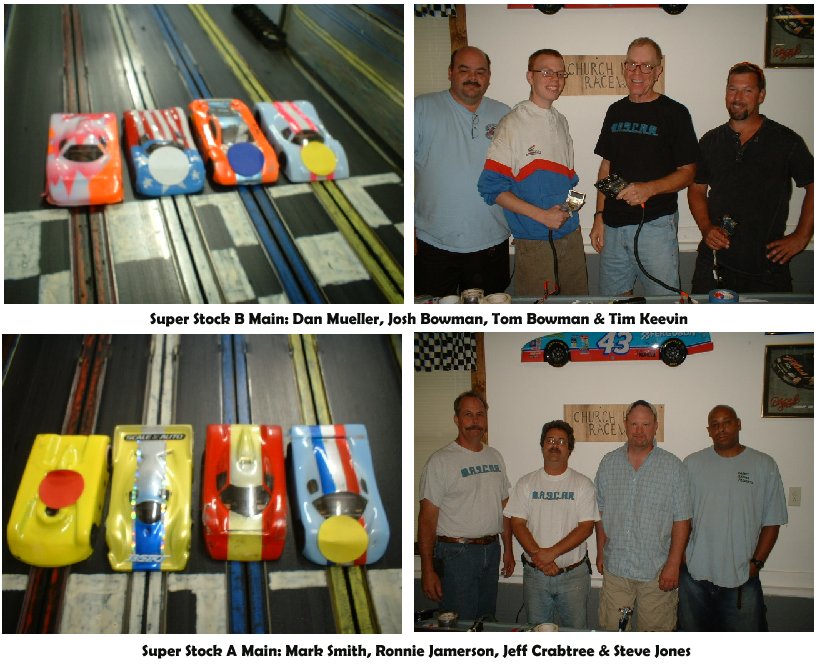 The final round of MASCAR's was Super Stock on Ronnie Jamerson's 4'x16' Wiz track in Gloucester, Virginia. A bigger crowd than what was expected, as racing in the Mains commenced with Marshall Tucker battling with new racer, Robby Whiteed, and tearing up the C Main. Marshall had a lap on Robby going into the last heat, but Robby fell victim to the yellow gutter, and Marshall ended up with a total good enough for fifth overall. The B Main saw Tim Keevin setting the pace, with the rest of field down a couple laps. The A Main saw Ronnie Jamerson untouchable with his G3R, Jeff Crabtree backing him up with another G, and Mark Smith's Storm down 3 laps, and Steve Jones down another 3 laps. Pretty close running, with 5 minute mains!

Super Stock Overall Results - 5 minute Mains

1- Ronnie Jamerson 315.44

2- Jeff Crabtree 305.41

3- Mark Smith 302.02

4- Steve Jones 299.02

5- Marshall Tucker 283.37

6- Tim Keevin 283.07

7- Tom Bowman 281.15

8- Dan Mueller 278.21

9- Josh Bowman 272.09

10- Robby Whiteed 270.44

11- Chris Mueller 265.07

12- Dale White 255.43

13- Malcolm Tucker 248.44

Ronnie Jamerson winner, with Scale Auto's G3R, 315 laps...

Jeff Crabtree 2nd Place, back 10 laps in another G3R...

Mark Smith 3rd Place another 3 laps back, with a Wizzard Storm with Steve Jones body
...Email Steve, and get your custom painted lexan body: teamxfactor@yahoo.com

Steve Jones in 4th Place back another 3 laps, in a Wizzard Storm

Tom Bowman's Wizzard ThunderStorm, with the new brp mounts for lexan bodies winner of the Thunder Storm event, 91 laps...

Tim Keevin 2nd Place ThunderStorm, back 4 laps...

Dan Mueller's beautiful 3rd Place Ferrari 512S, back 5 laps...

Jeff Crabtree's 4th Place 57 Chevy, back 1 lap...
Tom collecting the loot from the ThunderStorm race, from MASCAR President, Mark Smith.
Mark finished 3rd Overall, 2nd in SS/Mod, & 5th in BeachJet...
Tom finished 1st Overall in MASCAR points, 1st in BeachJet class, and 3rd in the SS/Mod Magnet class...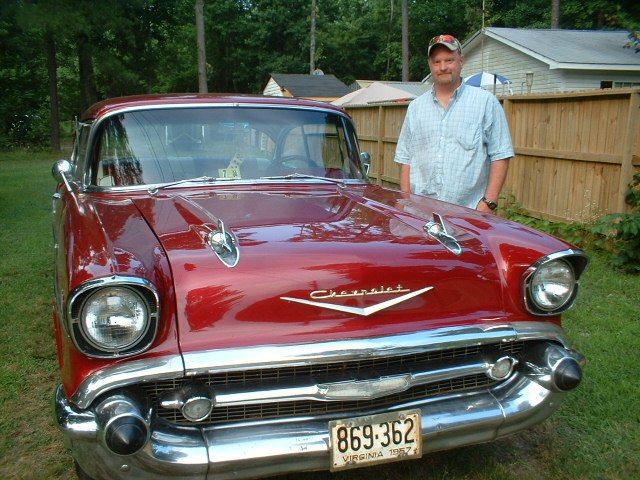 Jeff Crabtree's pride and joy...Jeff finished 2nd Overall, 1st in SS/Mod Magnet class, 4th in BeachJet class...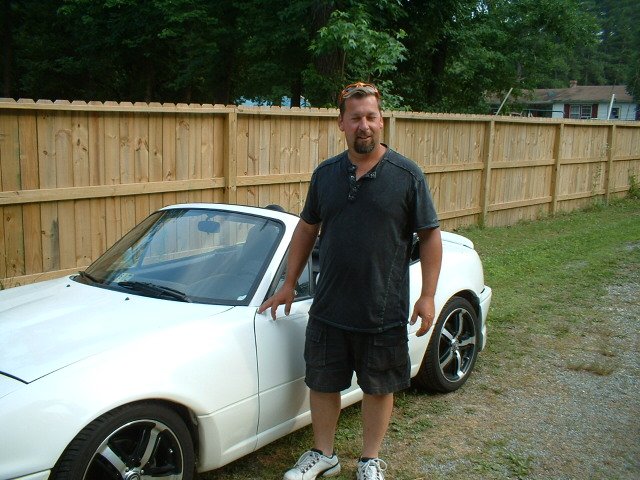 Tim Keevin's Miata Micro Racer...Tim finished 4th Overall, 3rd in BeachJet and 7th in SS/Mod class...
Thanks to everyone for another successful 14 race season in the books for 2009-2010!