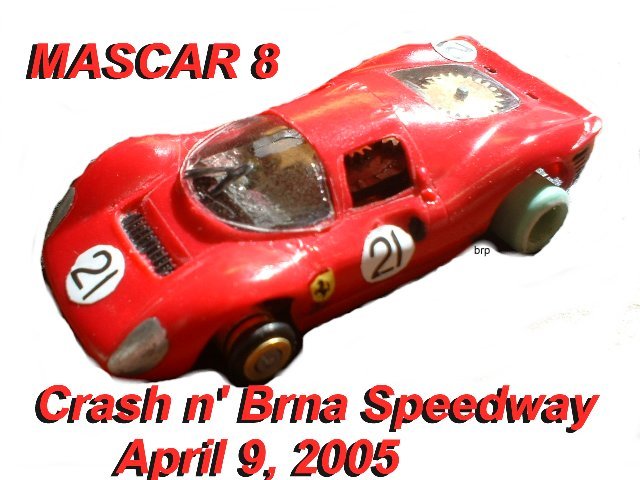 MASCAR 8: a photo report by Tom Bowman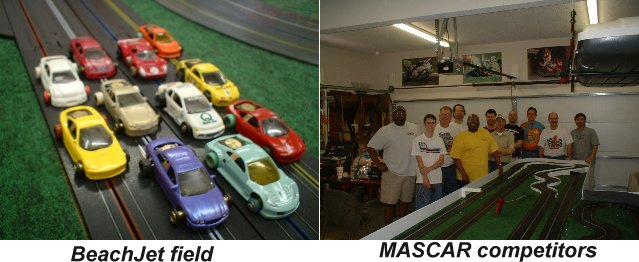 Our second visit to Ron Brna's super fast North Carolina track saw Virginia hot shoe, Shawn Molter set the pace in BeachJet qualifying. He had two laps over the next bunch, and it seemingly was his race. However, it turns out that the Modified class was going to be his win on the day.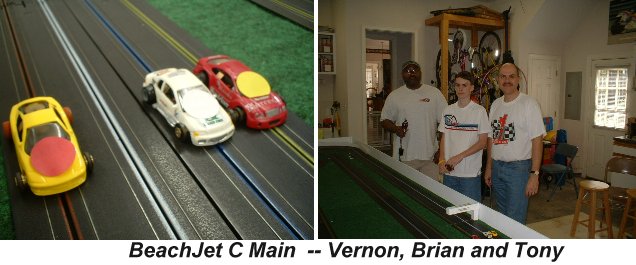 First time racer, Brian, aquitted himself proudly with a borrowed car. Vernon, usually much faster with his beloved T-Jets, was having the start of a bad day! 1/24th racer Tony, was in there to try and push the little cars harder than the big un's.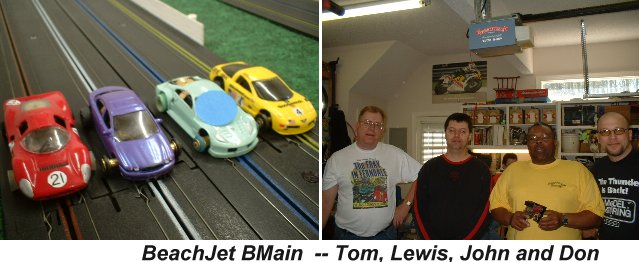 The B Main was a battle between East Coast Fray teammates, Lewis and Tom. Tom's beautiful brp Ferrari P4 edged Lewis's 350Z by 11 sections. Don Pope was back a lap in his gorgeous Greg Davis C5R Vette and John Smith another lap down in his Barney colored Jag.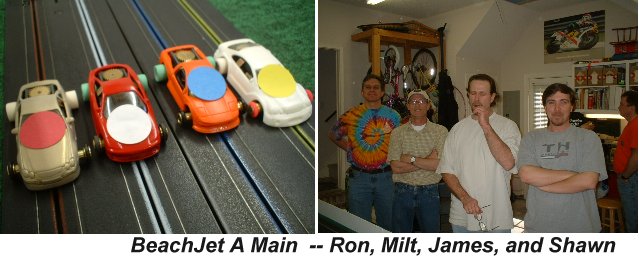 The A Main, was super competitive, as pole sitter Shawn Molter was attacked by track owner Ron Brna, Team Wizzard's James Kennedy and SOCAL transplant, Milt Surratt. When the dust settled Ron pipped James by 5 sections, and Milt got Tom from the B Main by 1 section. And poor Shawn was another 4 sections back! MASCAR racing is close!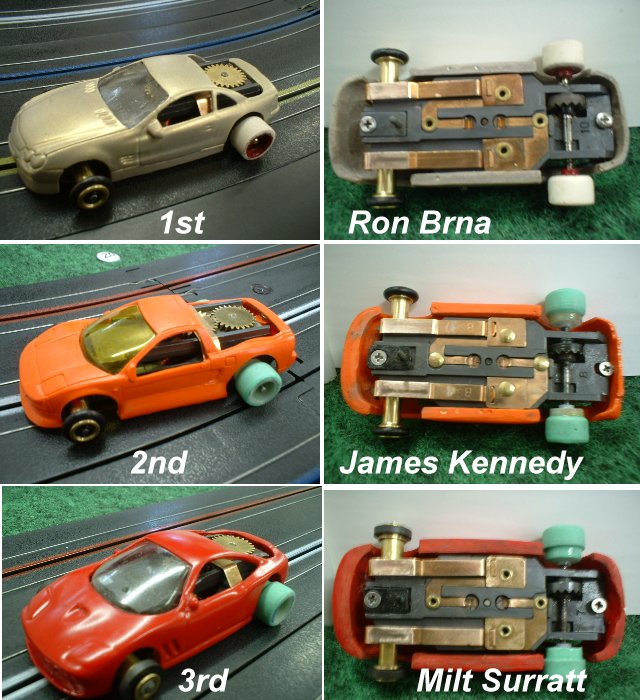 Here are the top three BeachJets, no controversy in this class!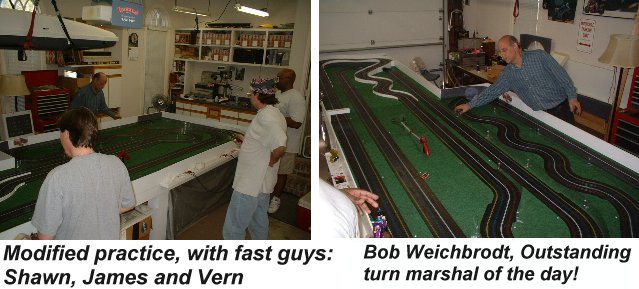 The long straightaways of the Crash n' Brna track, are seemingly made for the ballistically fast Modified class. These cars have 3 ohm motors and polymer traction magnets, and the major players are Slottech's ThunderCat T1, Wizzard's Storm and ScaleAuto's G3.
The modified class was not as close, as Vernon Dew took the top spot in the qualifier, with 154.32 lap run. Shawn's T1 was back at 151.10 and John Smith's Storm at 146.20 ...James Kennedy was having some pickup issues or was it controller problems that dropped him into the B main.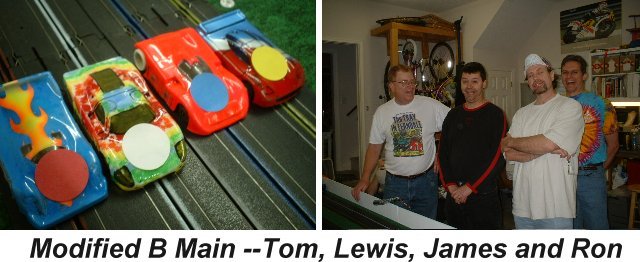 James solved his problems, and proceeding to jet away from the B main contenders, running a 209 total for 2nd overall. Ron had a very fast G3, and although crashing a bunch, he still finished with 175 to Tom's 165 and Lewis with 161.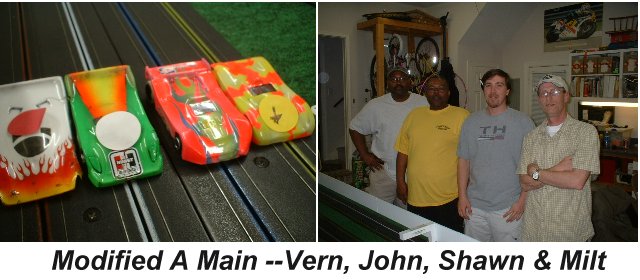 The A Main, starting with Vernon's G3 battling Shawn's T1 with Milt's G3 and John's Storm holding station. After four furious segments, Shawn totaled a 214, with Vernon back 2 laps after an off the table excursion cost him. Milt finished with 204 and John a 196. Everyone below Shawn moved up a spot though, when post race tech, revealed an illegal arm in Vernon's G3, resulting in a DQ. Vernon was apologetic, and resigned to his fate.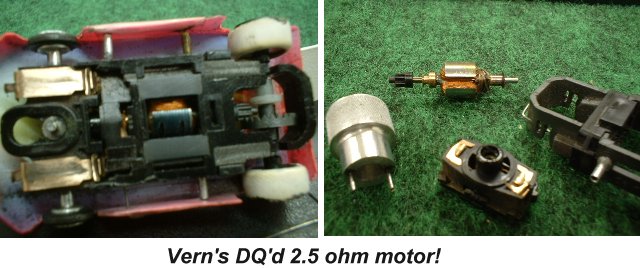 Gary Beedle hand wound 36, ohmed at 2.4-2.5, well below the Modified limit of 3 ohms.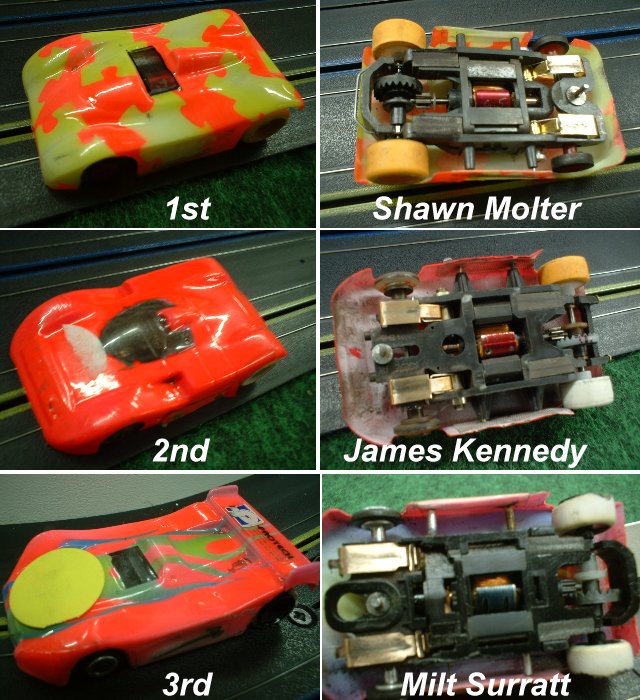 Shawn's ThunderCat was the winner over Vernon's illegal arm, which boosted James Kennedy to second and Milt Surratt to third.
Redemption for Vernon must wait until MASCAR visits his home track on May 7th in Durham, North Carolina. Come on over and join us and MASCAR is the fastest, closest racing for T-Jets and magnet cars on the East Coast!
Race stat sheets, requires Adobe Acrobat!
Click here to get the free Adobe Reader