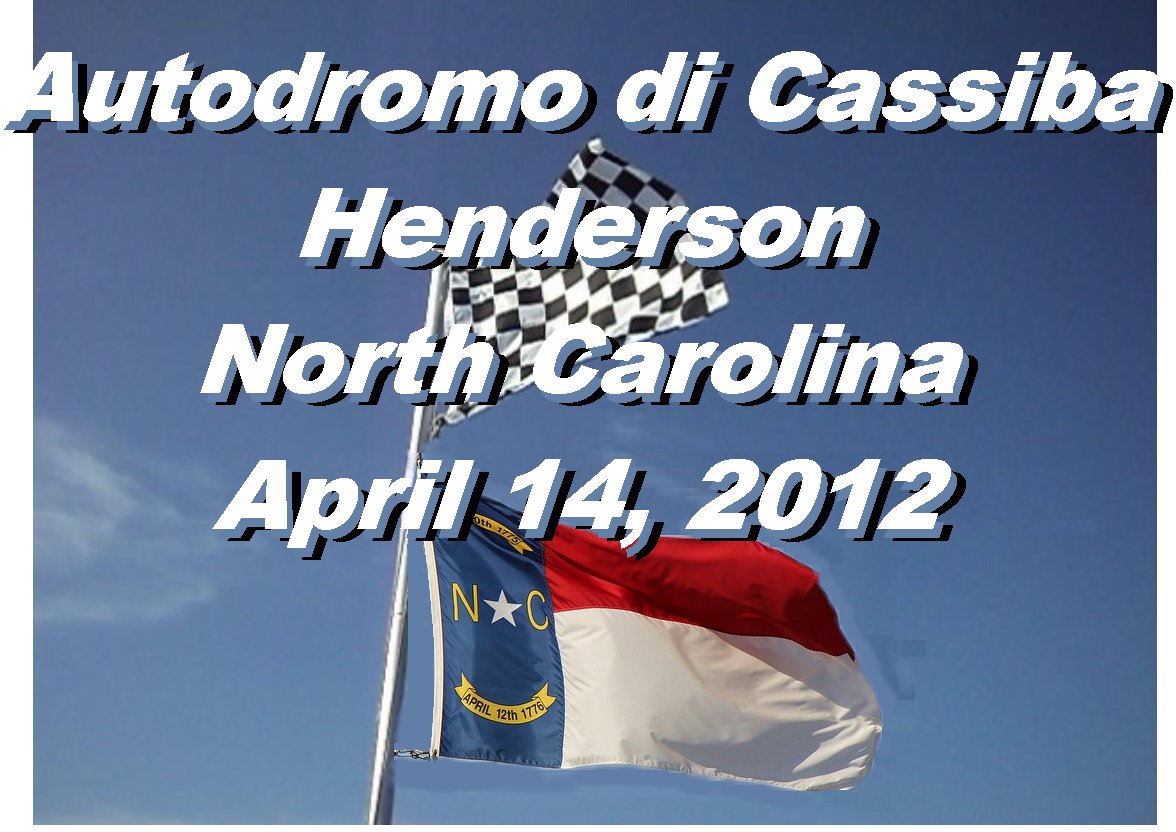 A race report by Tom Bowman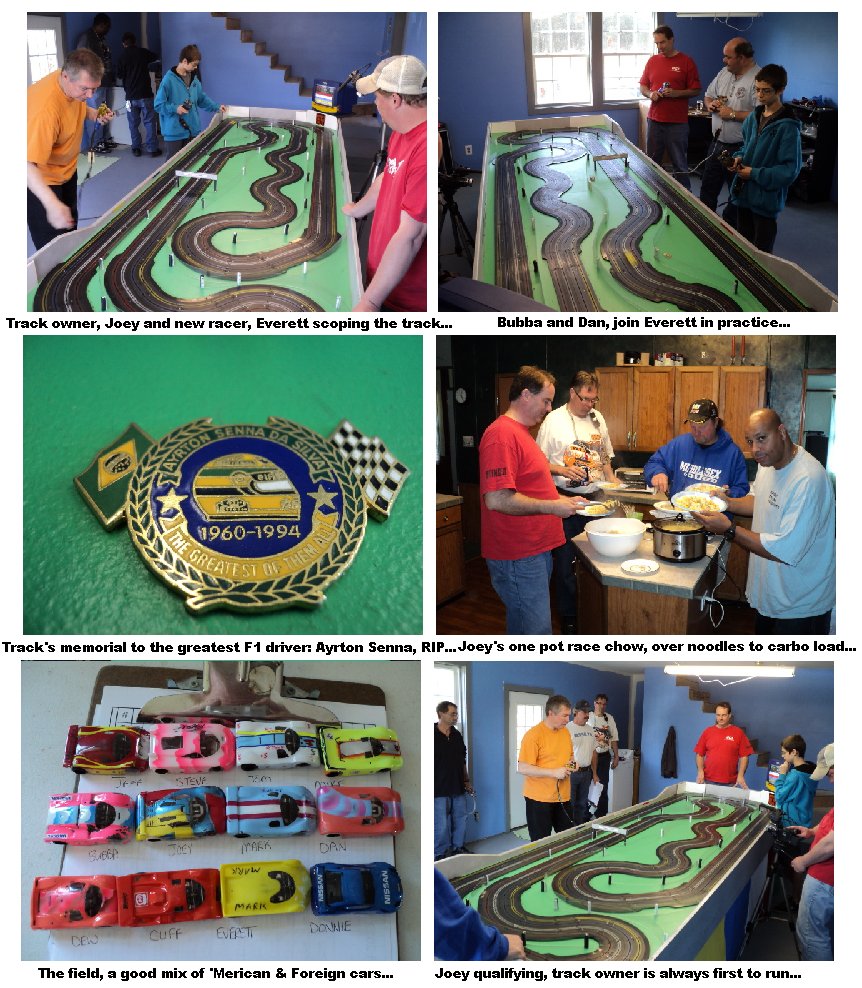 Check our Nat's fund ebay auctions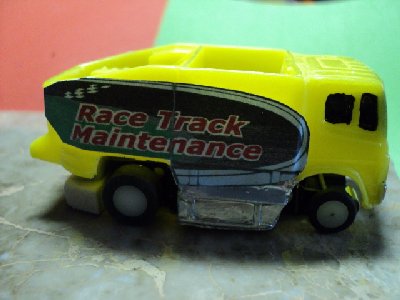 Oscar II track cleaner on MASCAR ebay auctions every week!
Super Stock Qualifying - 30 seconds
| | | |
| --- | --- | --- |
| 1 | Jeff Crabtree | 9.25 laps |
Super Stock Round Robin - 2.5 minutes
| | | |
| --- | --- | --- |
| 1 | Jeff Crabtree | 158.63 laps |
The NASCAR Truck race is at Rockingham, NC today...yesterday MASCAR raced at Henderson, NC on Joey Cassiba's challenging Tomy road course. Visiting a new venue, always brings out some new blood, and we had NC racers, the Vernon "The Dew Man" and Blue Devil Donnie show up to run with us. Donnie had some of his beautifully, realistic lexan bodies to sell. New racers Everett Edwards, and Cliff Henke joined the action. Following our usual format of qualifying, round robin to sort out the racers into more or less competitive groups, leading the C Main first off. Donnie led off with a great 66 on white, with Cliff, Mike Ose and Everett separated by just a couple laps after 5 minutes of opening action. Second segment saw Mike grab the lead on white lane with Cliff and Donnie tied back 4. Cliff got to the white power lane on the third segment turning a 68, which put him in the lead by 3 over Mike, Everett back another 5 and Donnie not having a good time on yellow. The final segment saw Cliff win his first Main with a solid 65 on Blue, Everett ran an excellent 67 on white to pull into second, Mike and Donnie of just a bit out of sorts in the gutters. The B Main started out with Dan and Joey running 76's, followed by Tom and Mark. Joey continued to show that he owned the track, Dan started to cool down, Mark picked it up and Tom cursed his way around a difficult track. Tom got some tips from Jeff, lightening the spring tension and going up a size in the rear, which improved on blue to a 75...but Mark stayed clean, Dan suffering on Red...all led to Joey winning the B Main by 14 over Mark. The A Main, was the main event of course, and the guys in it, knew what they were doing. Steve Jones' Slottech T2 "stormed" by Jeff Crabtree, back 4, Bubba Milholen back another and the Dew Man, toughing it out on the Red gutter. Round two saw Steve extend the lead with a run on the second power lane,despite having a nipple issue with a Tyco pinion wearing out the nipple. The Dew Man turned up the wick on White to get a 85 and move past Bubba into third. Round 3, saw Jeff get on White and turned in an 88 lap run, high of the day. Steve was running the yellow gutter hard with an 84, which gave him a 1 lap edge over Jeff, despite another nipple wearing out...which brought endless jokes and laughter amongst the boyz. Dew had 2 laps over Bubba in the battle for third. Going into the final round, pit railbirds liked Jeff's chances...as he was on Blue, and Steve was on the worst lane, Red. Bubba had the hammer lane of white and Dew was on a gutter, which his ThunderCat didn't like. Steve proceeded to make Red into an advantage, since it was the shortest way around but had the tightest radius turns. Another 5 minute red eye segment ensued, and the surprising results of Steve running a lap more than Jeff, giving him the win by two laps! Bubba used white to his advantage, gaining three laps over Vernon, to get third place by less than a lap! Another incredible MASCAR race was in the books, round 12 of the season.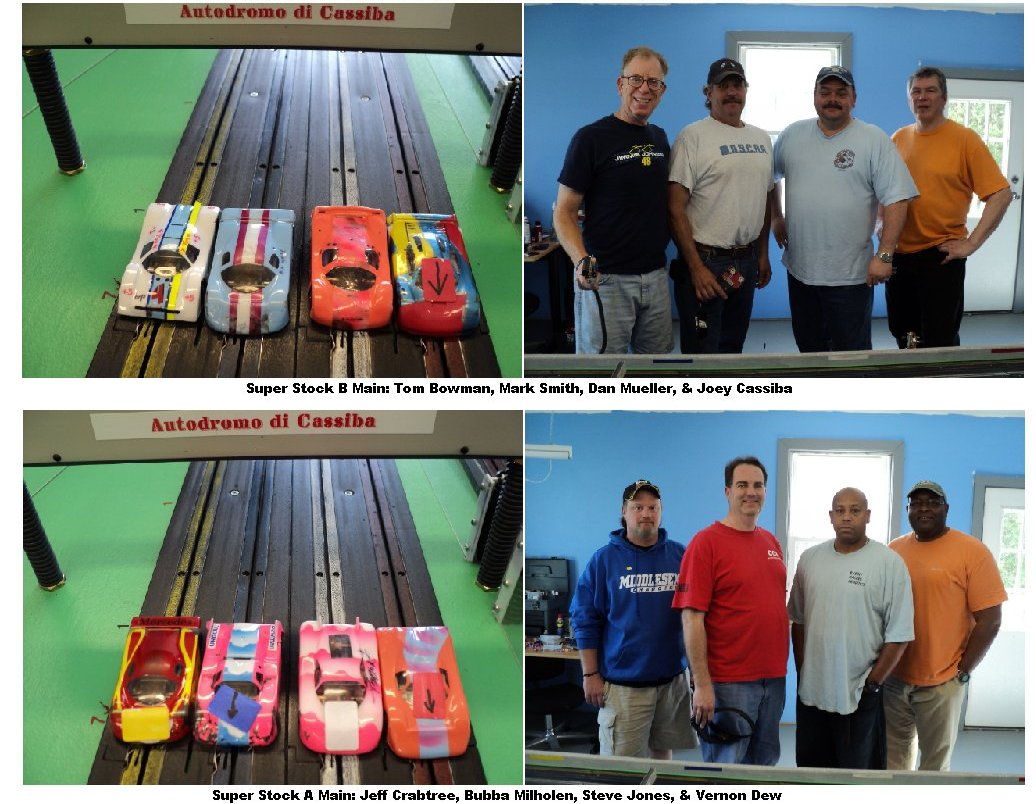 Super Stock Mains - 5 minutes
| | | |
| --- | --- | --- |
| 1 | Steve Jones | 331.35 laps |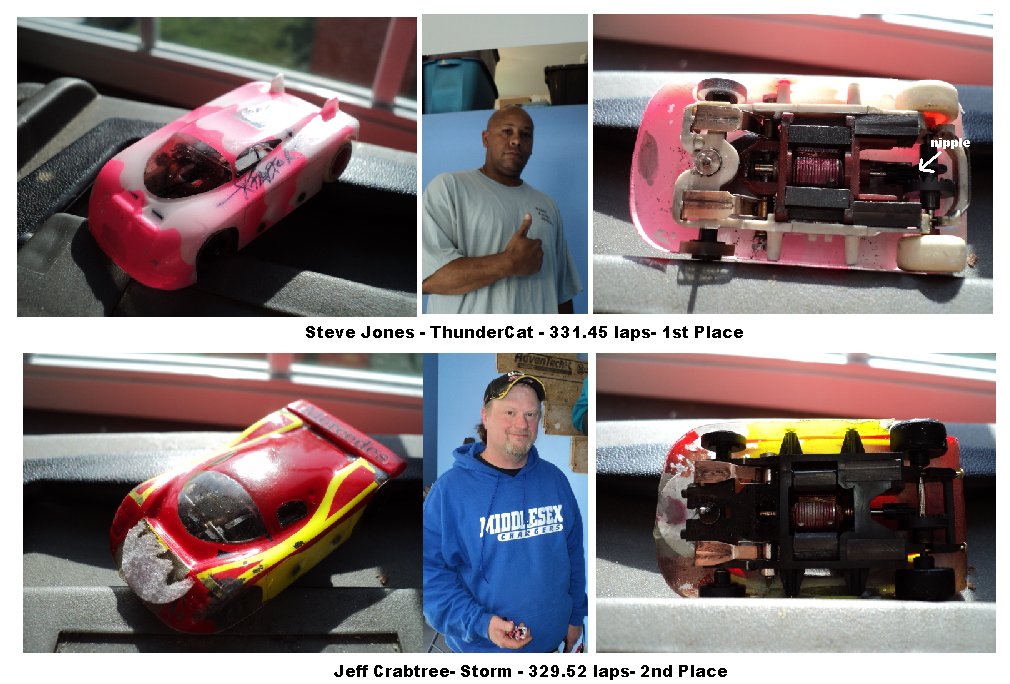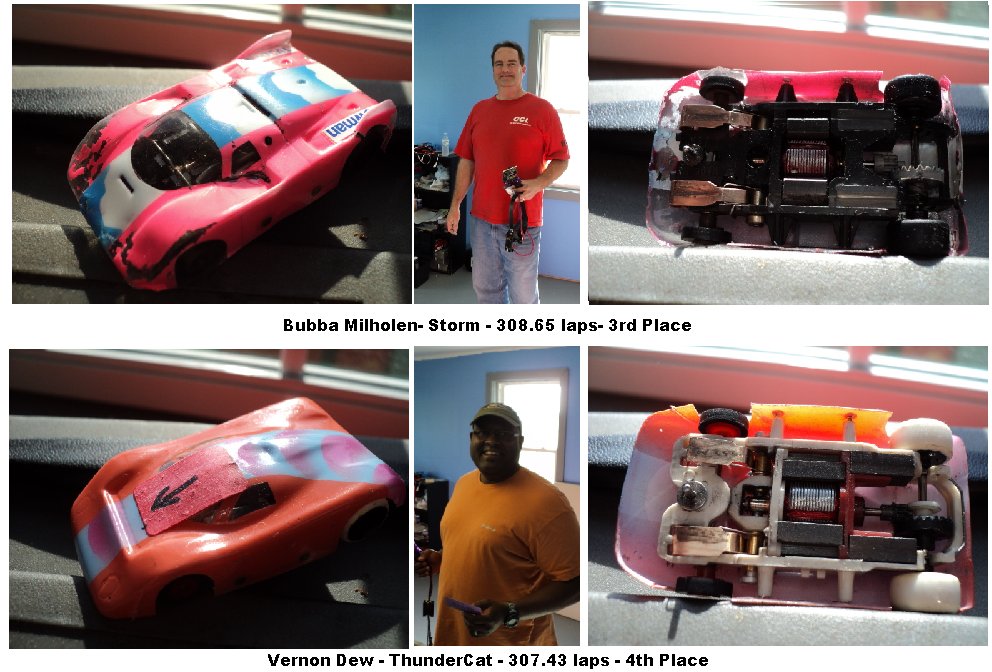 Super Stock race winner specs, requires Adobe Acrobat!
Super Stock race stat sheets, requires Adobe Acrobat!