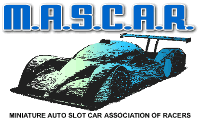 The Final MASCAR race of the Season
Presented by Slots Chaos & M.A.S.C.A.R.

By Tom Bowman

The dedicated few assembled at Slot Chaos HO commercial raceway, located in Hayes, Virginia. It was the seventh and final race in this, the second season of the reconstituted MASCAR organization. The weather was rainy, but probably the main reason for the small crowd, was Easter on the following day. Fortunately, the Slot Chaos regulars filled out the grid. The 4' x 16' WizTrack was fast and smooth, with a 4 board power supply. The BeachJet field did include Roger Corrie, debuting his new Lotus Esprit and late model Firebird. Tom Bowman had a new Bat-Jet body debuting as well, the Datsun 260Z, a tiny little thing, with it's origins in the Corrie skunkworks of shrunken bodies. Only ten racers entered the BeachJet race, so after a 2.5 minute round robin, they were divided into to two 5 man heats, for the 3.5 minute mains. The "B" Main ran first, Roger's Firebird running better than in the qualifier, thanks to heavily restricted shoes. John Smith, driving his wife's "Racing for Jesus" brp Crossfire gave chase. Ronnie Jamerson's high winged JL Dodge Daytona led Mark Smith's Mach 1, suffering from out of balance wheels or possibly a loose lugnet and Scott Schmoyer's ballistic brp 260Z. Roger looked very good, and continued pounding out the laps as the rest of the heats went by with the positions staying stable. Roger did so well, he finished fourth overall, with John in 7th, Ronnie 8th, Scott 9th and the struggling Mark in 10th.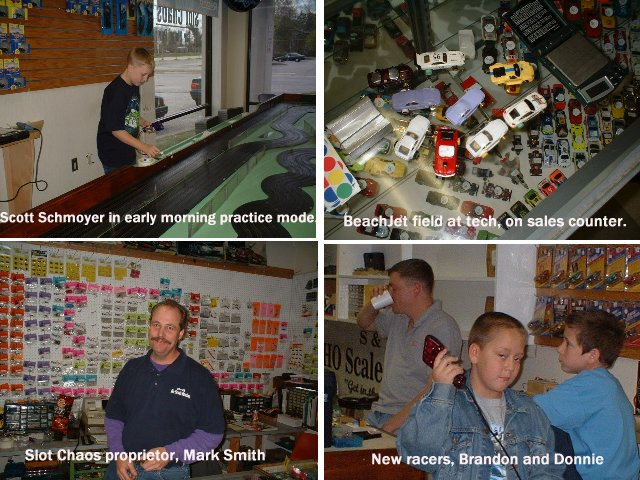 Track owner, Mark Smith, has purchased a couple large HO slot car collections recently. The showcases were filled with vintage slot cars of all types, and he has a lot more to put out, but no room for them. They also have large quantities of sectional track available, the race track has huge boxes of Tyco, AFX, T-Jet and Tomy track stored underneath. Slot Chaos was fully stocked with racing parts from all the major players and quite a selection of resin and lexan bodies. Stop by and stock up on your racing and collecting needs...new hours are keeping the store open every day but Monday.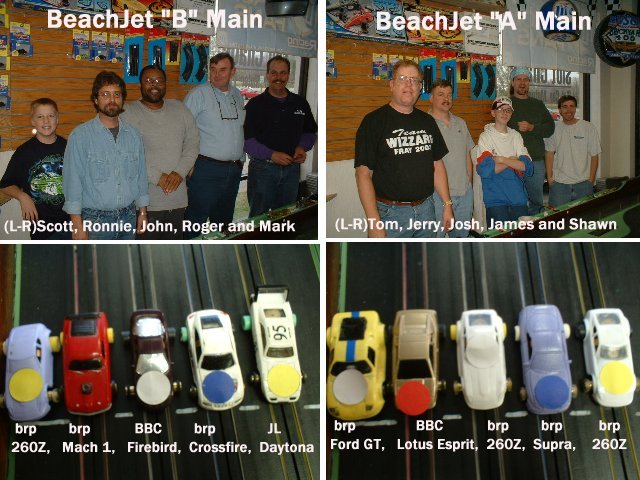 The BeachJet "A" Main had the top runners of the club together, Tom Bowman leading in the qualifier with 67 laps driving the new brp 260Z, Jerry Schmoyer's brp Supra right behind at 65, followed by James Kennedy 63 laps with the Corrie Lotus Esprit, Shawn Molter 62 laps with the brp Ford GT and Josh Bowman at 60 laps, 28 sections with the brp 260Z. Josh was one section ahead of John Smith in the round robin. The "A" Main started out strongly for Jerry taking a lap lead over Tom and Shawn, and two laps up on James and Josh. James caught up in the second segment with a strong run on white and had a 45 lap total along with Tom and Jerry. Shawn was a lap down and Josh was two down. Jerry stopped hanging about and dialled it up to max speed, uncorking a 25 in red lane! Tom was hanging on gamely with a 24 on white, James was down a lap with a 23 on blue. Jerry's choice of the standard 9 tooth driven pinion gear was looking like a good one as kept his lap lead over Tom's 12 tooth 260Z in the last segment to finish with a 93.37 lap total. Tom was at 92.20, James, struggled in the gutters for a 90.44, followed by Shawn's 85 and Josh's 83.
Super Stock
The MASCAR regulars took a late break for lunch, as the Slot Chaos Saturday night regulars streamed in, after the BeachJet finale. MASCAR President, Steve Jones, also arrived after working all night. Steve was on top form though, as he took the top spot in the 3 minute round robin, with 197 total. John Smith pipped Shawn Molter by 15 sections for the second lane choice, and Team Wizzard's Jame Kennedy with 188 or "King James" as he is known around Slot Chaos! The mains started out with the slow guys, but in Super Stock even they are pretty quick. Rose Battisto, the 12 year old queen of Slot Chaos, charged into the lead with her rocket G3. Wonder boy slot racer, Ray Etheridge was trying to stay close. Tom Bowman was struggling to keep his old eyes on the correct orange car and Josh, who was steady with a slow car. Rose had trouble on the yellow gutter, probably something to do with her "Tony Stewart" paint scheme. Ray zipped out in the lead followed by Tom. Rose came back strong in the last segment, once she got off the gutters with a great 79 lap run. It was not enough though, as speedy Ray took the main with a 288 lap total, followed by Tom, Rose and Josh.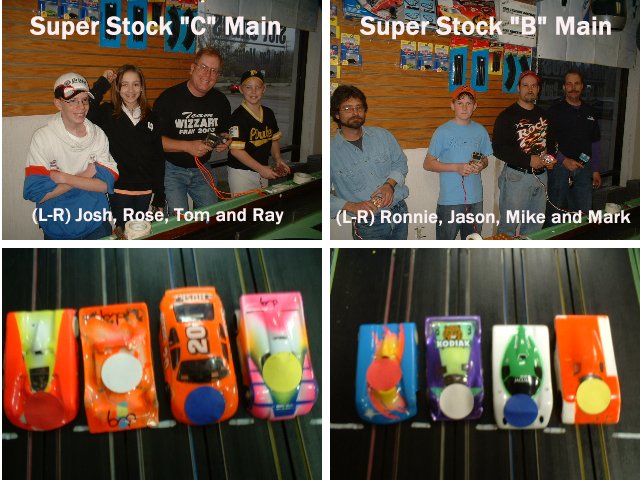 The "B" Main was all Mark Smith with a great run to 310 laps, just down one to Shawn in the "A" Main. Local racer, Jason Miller, did well to grab 2nd with Panther at 300 laps, followed by Mike Smith and Ronnie Jamerson. Ronnie's G3 had some amazing acrobatic tricks to perform, on one occasion he flew throught the air from one side of the track to the main straight, plopping down right in Red lane, generously helping his competitor with another lap!

Finally after all kinds of general mayhem, we got to the "A" Main, where the guys know how this game is played. "Mr. Mid-Packer" Shawn Molter had his usual Panther, up against the might of Team Wizzard...it didn't look good for his chances. But you never know for sure, that's why we run the race. It started as another battle between Shawn and James, both putting up 83's on the first segment...a tic back was Steve at 82, lurking with his dangerous Scorpion and John having problems on the tricky blue lane. The second segment saw King James back in form, recording an 85 on white. John picked it up on the yellow gutter with an 82, and Steve falling back on the red gutter with an 81. Shawn was in trouble however, an off the table excursion broke his Panther's "Big Foot" brush and he could only manage a 78 on blue. The third segment saw Steve move off the gutters, and really put the pressure on the rest of the racers. His 86 lap run on white put him a lap up on James, who was off the pace on the mysterious blue lane. John and Shawn were on the gutters, and rapidly going out-of-contention.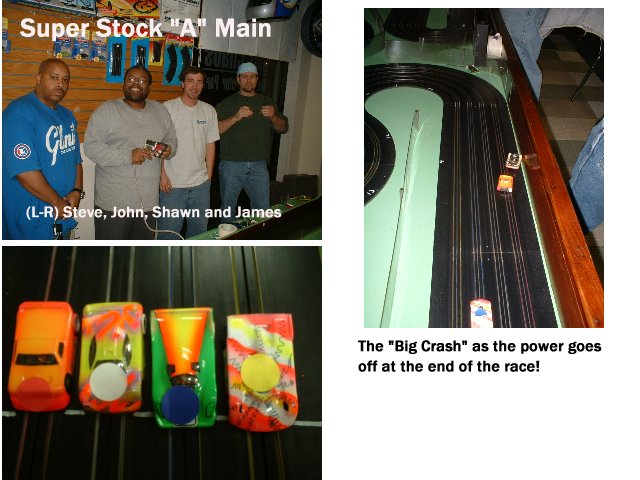 Everyone crowded around to see the final segment's battle unfold. James was in the lead, but he was on the yellow gutter...resulting from his 4th pick in the lane choice derby, otherwise known as the Round Robin. Steve was in blue, which is not the favored hammer lane ...John enjoyed that bit of local knowledge as he was ending up on white. Shawn's tired kittycat was on red, the best of the gutters. This was John's segment and he made full advantage of it, getting a 85 lap total. Steve did what he had to do in blue, with an 83. King James, was stuck on the gutter and could only get 81, ahead of Shawn's pitiful 75...his car slowing dying over the last three segments, like a terminally ill cancer patient. As the segment wound down, all the competitors were right together, and the power went off as they careened out of control into the soft walls of Slot Chaos' "Safer Barrier". A smashing conclusion on a very enjoyable day of racing!

The MASCAR points total are here: Points totals

Tom finished first in BeachJet, followed by Shawn and James. BeachJets had a total of 38 entrants over the season. Super Stock was won by Shawn, followed by James and John. We had a total of 57 racers run in the Super Stock class. Josh Bowman won the Amateur class for both Super Stock and BeachJets. After the race, a meeting of the principal members of MASCAR was held, the decision to keep the unique combination of T-Jets and magnet cars was made. The 2004-2005 season will probably see the introduction of faster magnet classes, like Modified, at selected races and the probability of more races in North Carolina, as our eyes look South for potential partners to grow the series.

Photos by T. Bowman

MASCAR Homepage