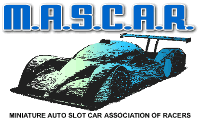 MASCAR 7: a photo report by Tom Bowman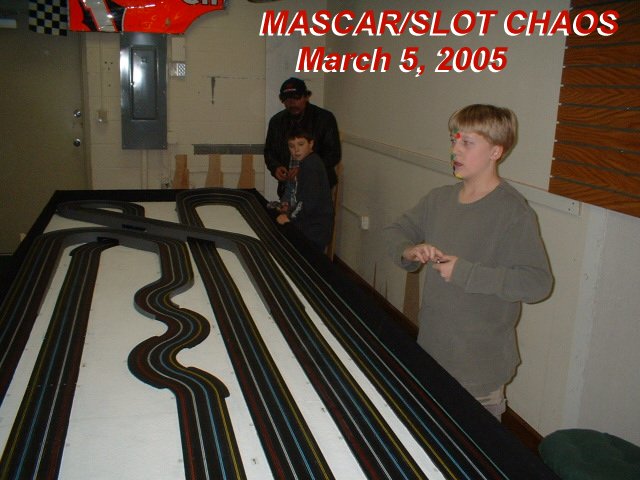 The joint big race of the season so far, between the MASCAR organization and Slot Chaos commercial raceway, was almost "KO'ed" after just getting underway with the BeachJet qualifier. The rain had started and low and behold an errant driver hit a power pole on RT17, knocking out power to the shop and the whole peninsula down to Gloucester Point! The power remained out for nearly 4 hours, but panic didn't ensue. Everyone used the opportunity for a leisurely lunch and plenty of bench racing.
Shown above is the fourth track in the Slot Chaos shop, the newly acquired Tomy 5 x 16 foot, featuring soldered rails and a banked turn with some elevation and bridges thrown in to make it interesting. It was up for running on, and the kids took full advantage. Shopowner, Mark Smith, will be adding a TrikTrax lap counter, to enable future races. The oval track was covered up for pit spaces as all the action was on the 4 x 16 foot continous rail Tomy for the TJets and the 4 x 16 Wizzard track for the magnet cars. Drivers from New Jersey and Georgia, joined the Virginia and North Carolina MASCAR regulars and the Slot Chaos local hot shoes for this money race.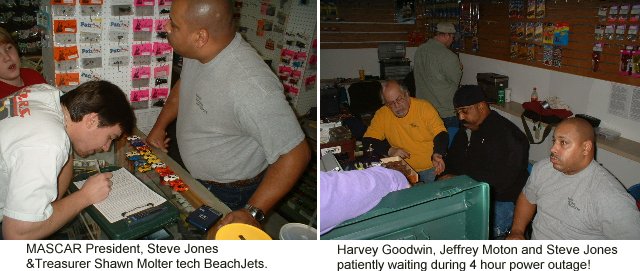 Race stat sheets, requires Adobe Acrobat!
Click here to get the free Adobe Reader