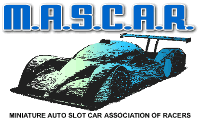 The Kennedy Cup Classic
Presented by Slots Chaos & M.A.S.C.A.R.
By W. Yobear Jones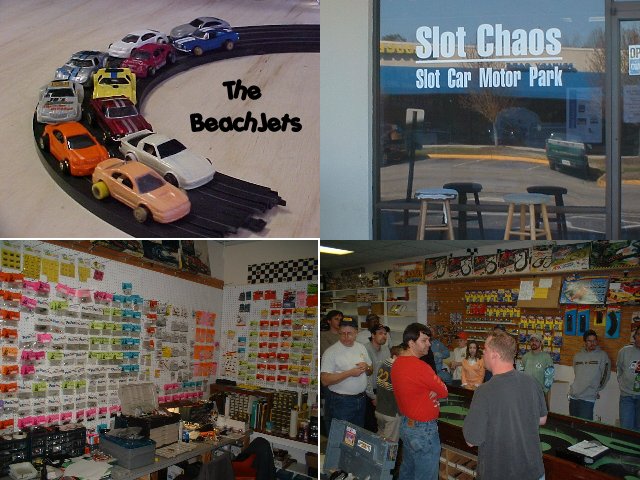 You could not ask for a more perfect day to race on. Sunny, warm with a slight northwestern breeze and thirteen die hard T-jet Slot heads ready to take care of business. Race 6 of the M.A.S.C.A.R. racing series has once again made their way to Hayes Virginia for another action packed battle. Today Slots Chaos inducted into their Hall of Fame one James Kennedy for his constant contribution to the racing scene at Slots Chaos. After tech and a qualifying session, it was time to bust some chops. Before we start, we have to mention that two Roger Corrie creations would be showcased in the race. Tom Bowman is driving the new Corrie Mustang GT and Yobear running an original Mazda RX-7 from the Corrie Classic Collection. C-Main: Don Soltow, John Smith, Josh Bowman, Jeff Crabtree and Ronnie Jamerson were ready for action. As they attack the first curve Josh Bowman took the lead the Jeff Crabtree and Don Soltow in hot pursuit. Ronnie's car was off the pace so he made sure he did no impede the other racers. Don started developing a slight case of tire fade, but managed to keep the car in the groove. At the end of the first heat Josh had a one-lap lead over both Jeff and Don. Then Josh entered the dreaded "Blue Lane"! And it bit him badly! He de-slotted several times allowing Jeff and Don to catch him and make the pass. John Smith was also making a run at Josh but he too was having problems with tire fade and a malfunctioning body. Heat three finds Don Soltow in a statistical tie with Jeff and Don going into the gutters. Josh was poring it on and Don did hid best to try to hold off a hard charging Jeff, a couple of de-slots and Don was now in control of the heat. Although a couple of laps down Josh was putting the pressure on. The final heat, and Don Soltow was once again battling Jeff and Josh. Jeff bumped Josh and clipped John Smith, twice allowing Don Soltow to win the heat.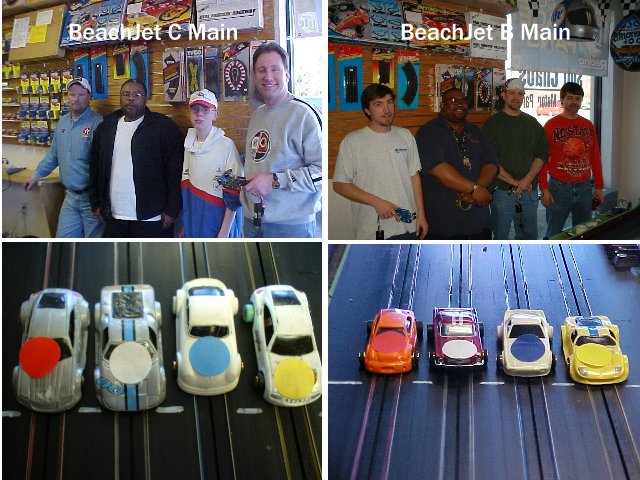 B-Main:
B-Main starring honoree James Kennedy, Lewis Wuori, Shaun Molter and Yobear42, got things nice and tight very quickly. These cars were matched quite well. When the heat started Shawn and James pulled out to a quick lead with Yobear on the bumper. Lewis who was in a gutter lane took his time and ran a slower pace. James and Shaun were going for it for several laps as Yobear stayed close. Shaun de-slotted and Yobear went after James. Yobear kept walking down James little by little each lap and finally got on his bumper just to de-slot on the back straight allowing James to pull away. Second heat Lewis showed everybody why he had to run easy in the gutter, his car was a rocket! He would pull away from you in the straights so fast it made you nose bleed, but he had a hard time managing the car in the curves. Mean while Shaun and James started to heat up the track again. Third heat and surprisingly no one made up any ground. James and Yobear were in the gutters turning good laps and Lewis and Shaun were in the power lanes. Just before Shaun had a chance to lap he would de-slot, same with Lewis. Final heat, Shaun started to cruise and Yobear made a run at James to get his lap back. Lewis still had his hands full with his car in the curves. Bear almost caught James but time ran out with James and Shaun on the same lap.
A-Main: Enter the Impossible
Remember the story of the Tortoise and the Hare? Well think of this as 2 Hare's vs 2 Tortoise's. The Hares, Vernon Dew and Ron Brna also known as Team Brute Force, they have the FASTEST t-jets I have EVER seen! I've seen two tech committees at two different races go through those cars with magnifiers and find nothing out of the ordinary! Introducing the Turtles, one a champion magnet racer the other a champion t-jet racer. Both know the art of winning and what it takes to get there. Jason Zawacky and Tom Bowman approached the track on a mission and from all indications the fight would be for third place. Lets Go! As the race started, of course the first two cars out of the block were Vernon and Ron, but to their dismay Tom Bowman was stuck in the middle of them. But Tom fell victim of the curse of the "Blue Lane" the only problem was that he was in the Yellow lane but it stung him good! At the end of the heat he only had 15 laps, the average was 16 for this group. The second heat started and Vernon and Ron continued their rampage. Jason was giving his best but his Mustang was no match for the Brute Force dynamic duo, Ron was in the outside gutter and was giving his teammate the blues. Vernon was in a power lane and could not shake Ron. At one point Ron's car actually "Jumped" and caught Vernon at the end of the front straight. But what a difference a heat makes! With Jason just hanging on, Tom Bowman dug into his bag of guts and glory and pulled out courage! Tom made the track average but going to the third heat he was in fourth place. Third heat started and Tom went to work. He had the Corrie Mustang in the stratosphere at the same time Ron was in the blue lane and the curse bit him. Ron seemed to have lost control of his car and started to de-slot at almost every curve, meanwhile Tom was taking no prisoners he was flying and making no mistakes. At the end of the heat Tom pulled 18 laps in the white lane! Most racers averaged 16 laps in the power lanes, 17 if you had a fast car; Tom had desire and a hand full of courage. The final heat found Ron trying to make up lost ground, Tom picking up where he left off, Vernon was trying to catch Tom and Jason was just happy that it would be over soon. With the group calming down from such an exciting race, it was time to calculate the lap scores and to everyone's surprise it had come down to a matter of sections. As you look at the final results pay close attention to the lap totals. Slots Chaos hosted a great race; I also would like to commend the owners of Slots Chaos for working hard to restore their Wizzard track. The track was 90% smoother than the first series race that was held there earlier this year. Good job guys!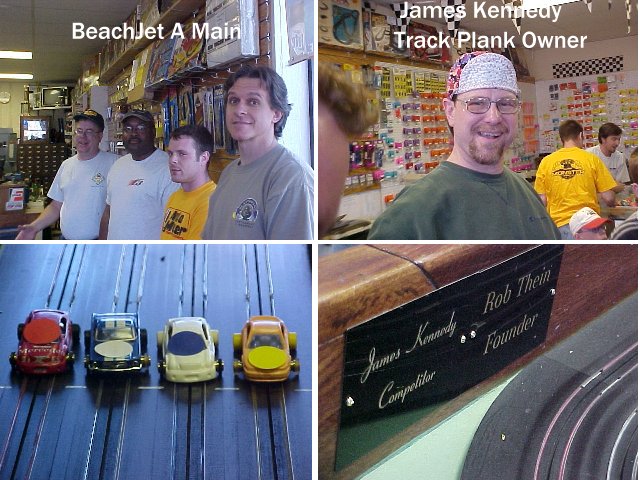 The Final Results

Name				Pos/Laps
Tom Bowman			1/66
Vernon Dew			2/65
Shaun Molter			3/64
James Kennedy		        4/64
Jason Zawacky	    	        5/63
W. Yobear Jones		        6/63
Ron Brna			7/61
Lewis Wuori			8/61
Don Sultow			9/60
Jeff Crabtree			10/59
Josh Bowman			11/58
Ronnie Jamerson 		12/54
John Smith			13/51


M.A.S.C.A.R Race #6 is in the record books and one could easily argue that this could this was one of the best t-jets races in the series this season. The next M.A.S.C.A.R. Race is not scheduled to have a t-jet run. So the next t-jet race might be at the M.A.S.C.A.R. Series Championship scheduled for April.
Super Stock

By John Smith

S/S :

JASON Z - 199 - G3 - BSRT - SPONSOR LESS
SHAWN "Middle of the Pack" MOLTER - 198 - G3 - BLUE PUMA - TEAM ON-SLOT
JOHN S - 191 - scorp - zero timmed whp - team wizzard
VERN D - 188 - G3 - SILVERBACK - TEAM BFR / (BSRT)
JAMES K - 185 - scorp - high timmed whp - team wizzard
MARK S - scorp
BRIAN E - scorp
RONNIE J - PANT
TOMMY - G3
RAY S - scorp
BOB L - scorp
LEWIS - G3
ELVIS - scorp
TOM B - scorp
RON B. - G3
DENNIS - PANT
JASON M - PANT
VINCE - scorp
MIKE S - scorp
ROBBIE - p2
JEFF - scorp
CHUCK - scorp
ROSE - scorp
DUNKIN - p2
MAURY - p2
JOSH B - PANT
DON S - scorp

It was a close race down to the last heat with TEAM SPOON right on Jason's tail......then........THE BIG THUMB!! well thats RACING!! Good race everyone!!

NEXT MASCAR RACE IS APRIL 10th!!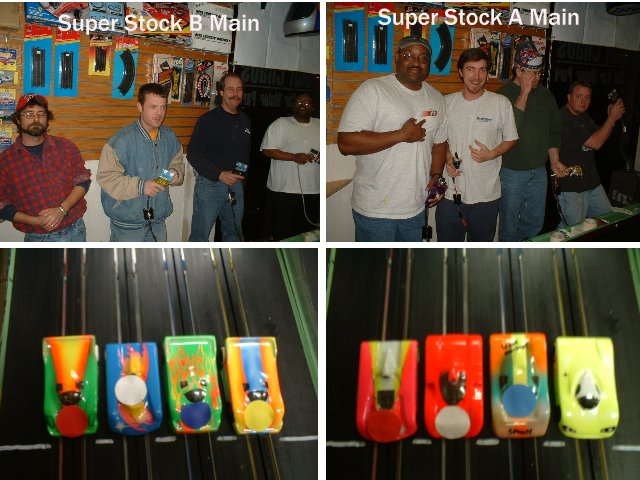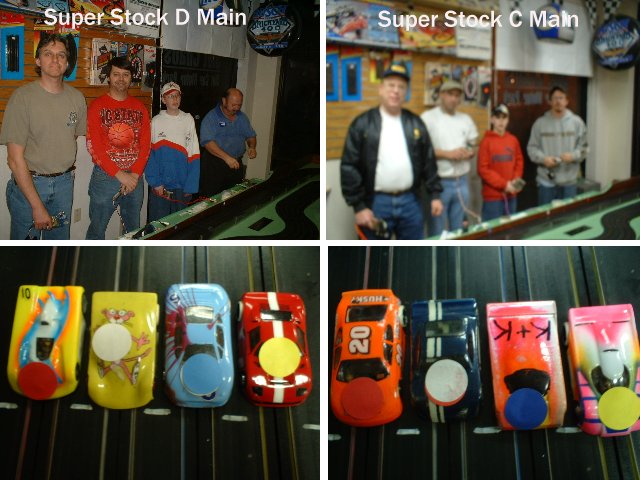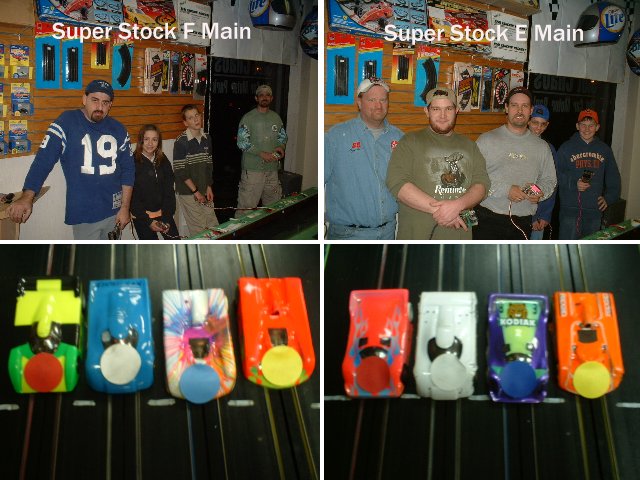 Slot Chaos pictures from MASCAR 6
Photos by T. Bowman and Wendell Jones
MASCAR Homepage