A race report by Tom Bowman
First round to determine order in the Round Robin

Qualifying - 30 sec run


1- Jeff Crabtree 3.43 laps

2- Bubba Milholen 3.38

3- Lewis Wuori 3.37

4- Robbie Whiteed 3.27+

5- Mark Smith 3.27

6- Dan Mueller 3.26+

7- Tim Keevin 3.26

8- Ronnie Jamerson 3.22

9- Josh Bowman 3.20

10- Tom Bowman 3.07

Next race determines the mains placement.

Round Robin - 2.5 minutes

1- Jeff Crabtree 75.00 laps

2- Lewis Wuori 73.09

3- Tom Bowman 70.12

4- Ronnie Jamerson 68.33

5- Bubba Milholen 67.16

6- Mark Smith 67.11

7- Tim Keevin 66.44

8- Robby Whiteed 66.34

9- Dan Mueller 65.40

10- Josh Bowman 65.10

BeachJet Overall Results - 3.5 minute Mains

1- Jeff Crabtree 105.17

2- Lewis Wuori 101.16

3- Tom Bowman 101.10

4- Bubba Milholen 99.00

5- Ronnie Jamerson 97.06

6- Tim Keevin 96.45

7- Josh Bowman 96.08

8- Dan Mueller 95.11

9- Robbie Whiteed 93.40

10- Mark Smith 93.33

Ronnie's BeachJet was very competitive for the ten competitors taking part, qualifying saw everyone on the same lap...a first! The ten minutes of the round robin saw only a ten lap difference between first and last...again a record! The B Main saw Bubba make his move, and built up a 3 lap lead over Tim, Josh with Dan a lap back. Mark picked up the wrong Difalco controller, and it took a couple struggling heats before he realized it and swapped to the 15 band version to start driving cleanly. This left him in a battle with new racer, Robby, who got by the club president by 7 sections.
The A Main was effectively over on the first segment, as Jeff Crabtree pulled a lap on the field on the yellow gutter lane, in his Lewis rent-a-racer. While Jeff kept up the perfect heats, Tom and Lewis battled until the last segment, as Lewis got Tom by 6 sections. Race Host Ronnie, was back a few and ending up yielding fourth place to Bubba from the B Main. Another great race, and last T-Jet race before the Thunder Cup on April 10th, come and race with a great group of outstanding racers!

Jeff Crabtree's 1st place Zoomin BMW 650i
rolling on RT fronts, andShepard rear tires, and BSRT 504 shoes.

Lewis Wuori's 2nd place Zoomin Toyota Celica
rolling on RT fronts, andShepard rear tires, and BSRT 504 shoes.

Tom Bowman's 3rd place Bat-Jet Nissan 300ZX with brp front weights on RT-240D fronts ,
Wizzard Brownie rear tires, and BSRT 504 shoes.

Bubba Milholen's 4th place Bubba Racecar Shells Lexus with brp front weights on Wizzard wheels and brp BlueStreak tires,
Shepard rear tires, and BSRT 504 shoes.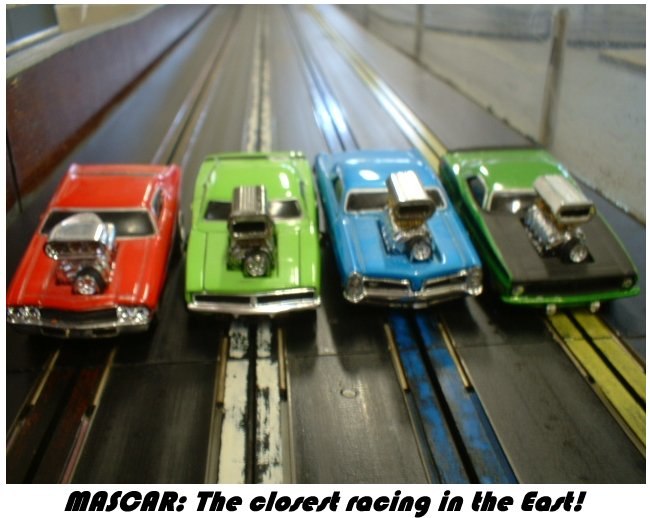 ---
BeachJet Race stat sheets, requires Adobe Acrobat!
Click here to get the free Adobe Reader