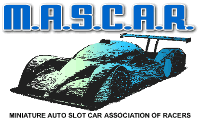 M.A.S.C.A.R Race #5
By Tom Bowman

Round 5 was in North Carolina at Vernon Dew's Apocalyse Speedway. We had 17 drivers from Maryland, DC, Virginia and Florida, join the North Carolina hosts. Vern's Tomy track was fast and smooth, however the TrakMate lap counter mated to a dead strip was installed just the previous day. It would prove to be unreliable, and the heats were pretty well mixed up by inconsistent counts. This in no way interrupted the fun of truly excellent competition, but it did make for some strange races! First up as always was T-jets, in the form of MASCAR's BeachJet "Fray" style class.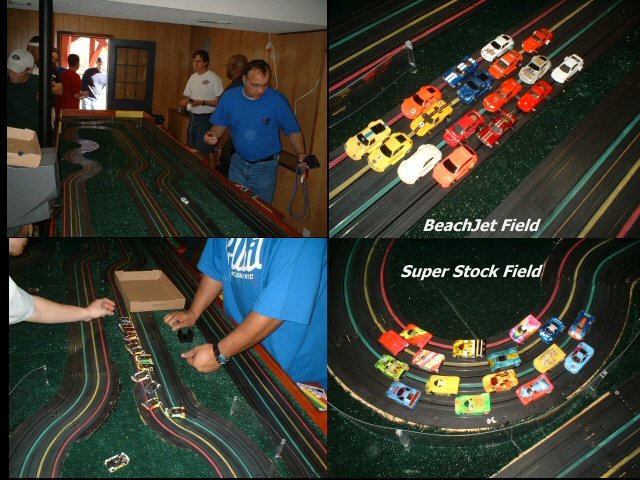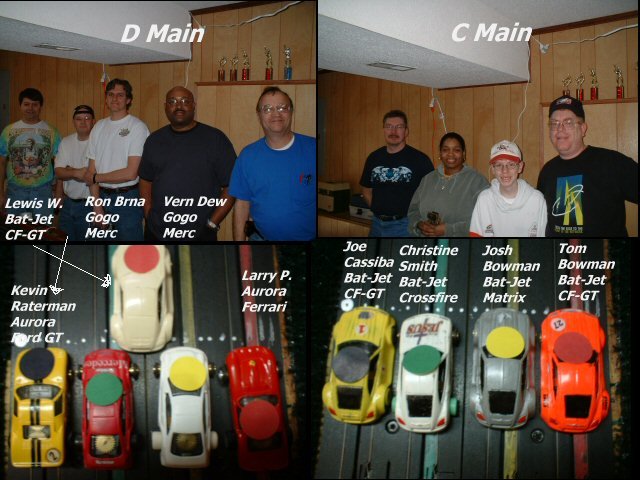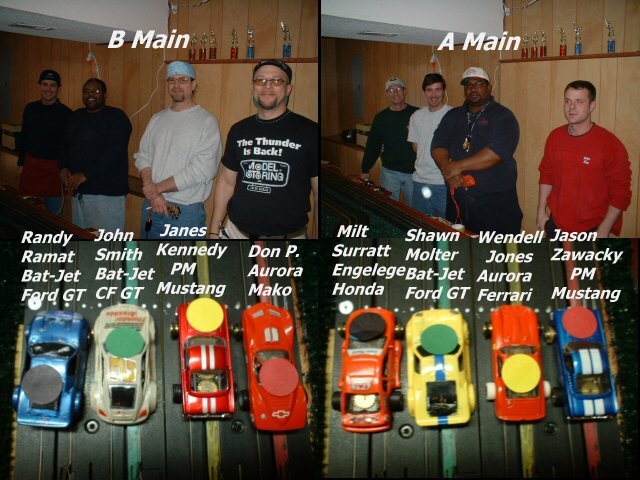 The BeachJet race was very strange, the fast local favorites were down in the D Main because their cars were so fast, they weren't counting on the dead strip...located in the middle of the fastest straight. So we had to employ manual counters throughout the day, which made the race director's job difficult. Shawn kept control of everything, and we got through the day without any major arguments. Ron Brna came from the D Main to win everything, a truly remarkable run!

BeachJet Results

1.  Ron Brna       61.06
2.  Shawn Molter   58.27
3.  Milt Surratt   58.11
4.  Wendell Jones  56.60
5.  Jason Zawacky  55.29
6.  Vernon Dew     55.25
7.  Don P.         54.29
8.  Tom Bowman     53.15
9.  Joe Cassiba    52.61
10. Lewis Wouri    52.61
11. John Smith     51.59
12. James Kennedy  50.62
13. Josh Bowman    50.31
14. Kevin R.       47.14
15. Larry P.       45.53
16. Randy Ramat    44.25
17. Christine S.   43.36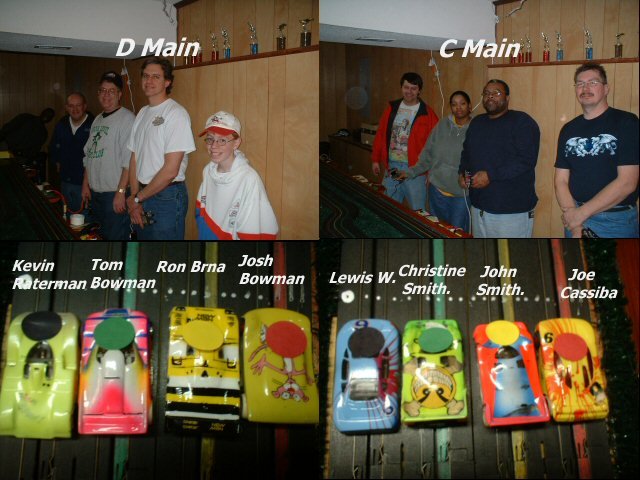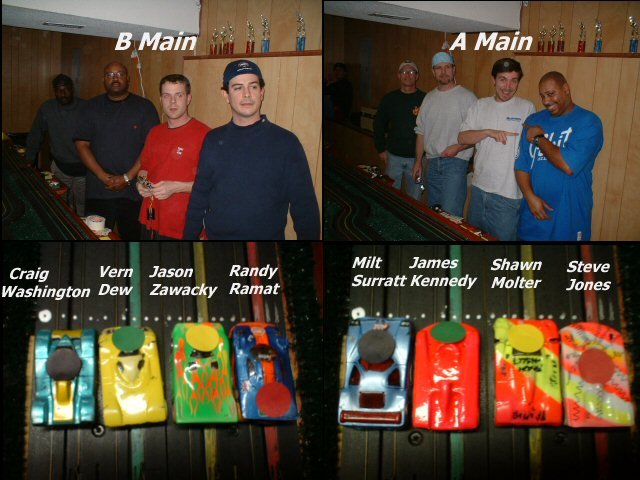 The Super Stock A Main, was a real knock down, drag out fight. Steve had a body issue, which cost him the win, Milt had pinion problems, resulting in a couple green flag pit stops. In the end, track owner Vernon Dew, edged Shawn Molter by a lap for the win...very close indeed for Super Stock.

Super Stock Results

1.  Vernon Dew     129.11
2.  Shawn Molter   128.11
3.  Steve Jones    127.07
4.  Jason Zawacky  126.26
5.  Craig W.       125.45
6.  James K.       124.14
7.  Joe Cassiba    122.27
8.  Milt Surratt   120.25
9.  Randy Ramat    118.47
10. John Smith     117.46
11. Lewis Wouri    110.41
12. Ron Brna       109.06
13. Josh Bowman    106.11
14. Christine S.   105.11
15. Tom Bowman     101.23
16. Kevin R.       100.24
17. Donnie          99.40

Photos by T. Bowman
MASCAR Homepage