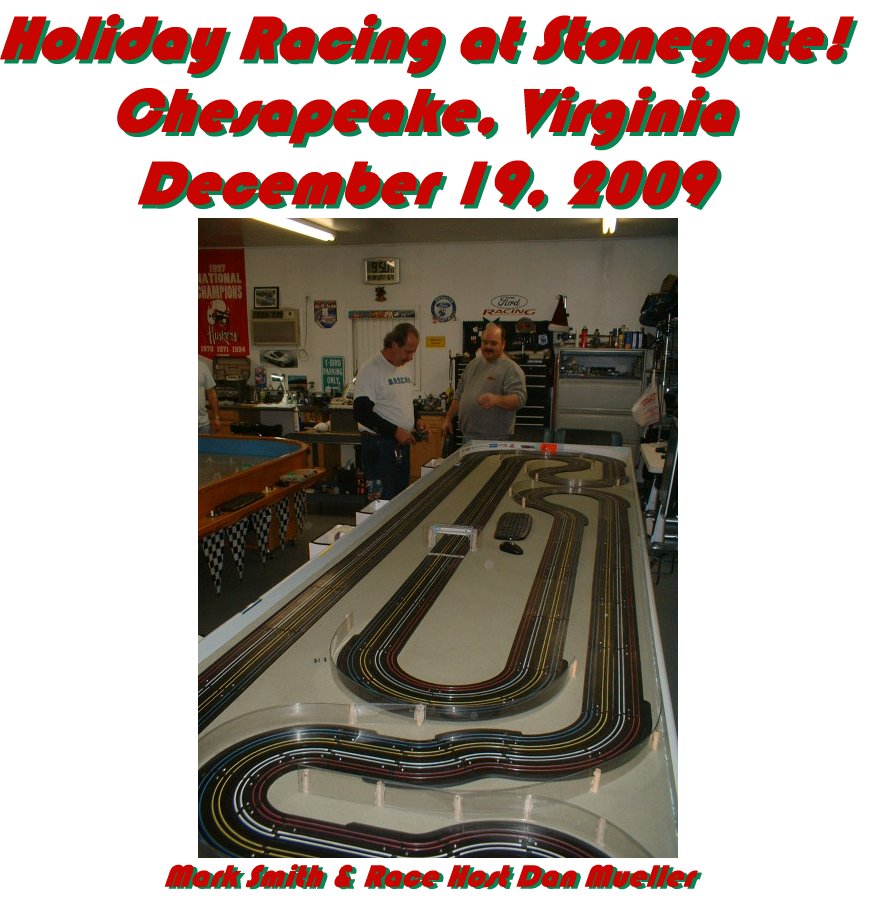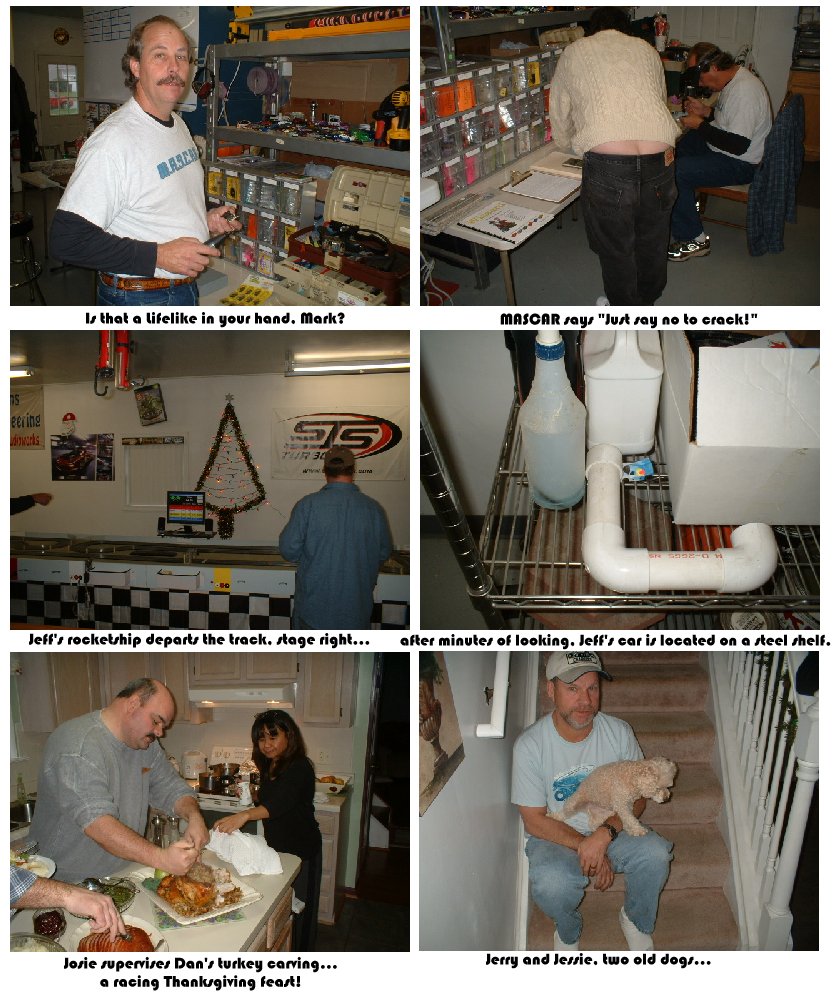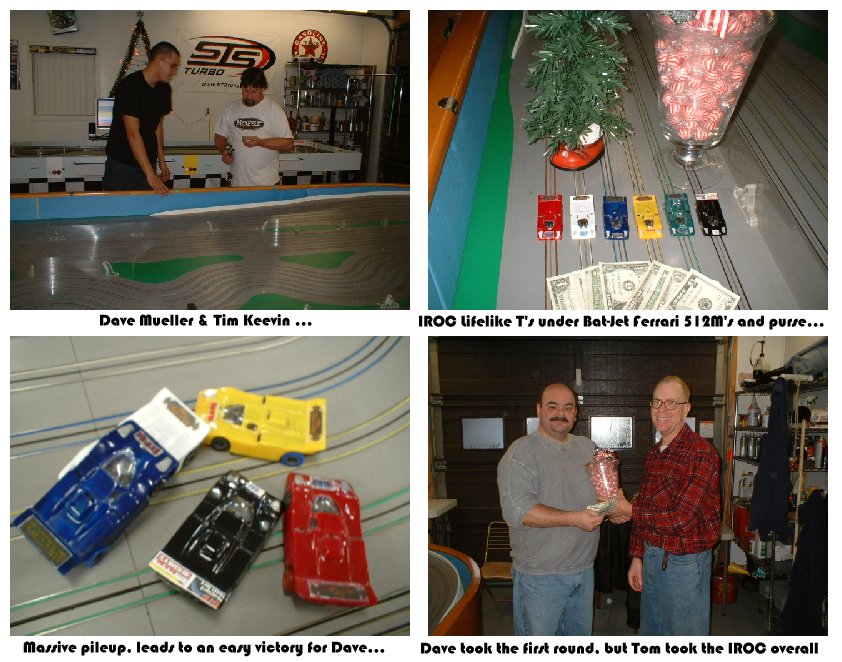 First round to determine order in the Round Robin
Qualifying - 30 sec run

1- Bubba Milholen 7.30 laps
2- Jeff Crabtree 7.19
3- Mark Smith 6.51
4- Jerry Holley 6.32
5- Tom Bowman 6.30
6- Dan Mueller 6.30
7- Dave Mueller 5.54
8- Tim Keevin 5.47
Bubba's first magnet car race and he's on the pole! Who would have thunk it!
Next race determines the mains placement.
Round Robin - 2.5 minutes
1- Jeff Crabtree 133.24 laps
2- Bubba Milholen 124.56
3- Mark Smith 123.37
4- Jerry Holley 117.38
5- Dave Mueller 117.28
6- Dan Mueller 114.04
7- Tom Bowman 112.33
8- Tim Keevin 107.29
Bubba remained on form, giving Jeff and Mark something to worry about.
Jerry repeated his outstanding fourth in the qualifier.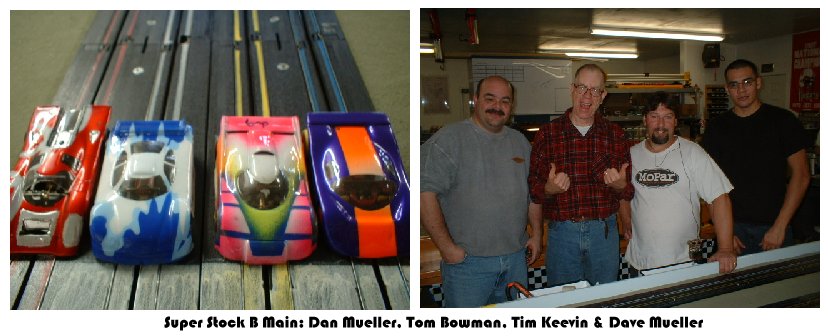 The B Main, featured the very fast ThunderCat of Dan Mueller, making it's MASCAR debut.
After three segments, Dan and Tom were tied at 189, with Dave, a lap back and Tim down 14 laps.
The final segment saw Dan finish it off on his favorite yellow lane, Tom dropping back three laps on white.
Dave was blue on blue lane and Tim was suffering on the red gutter.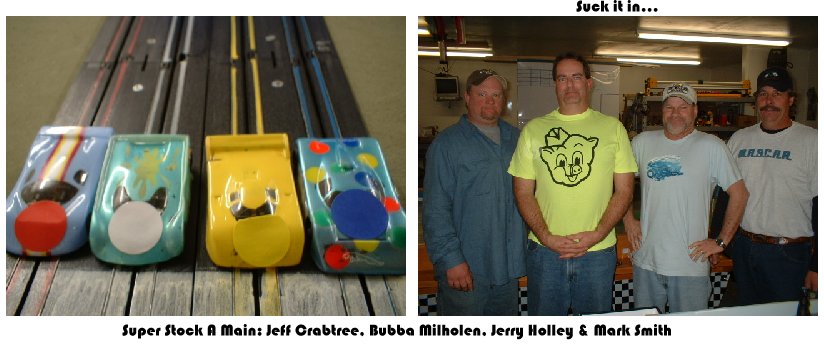 Bubba and Jerry were in their first magnet car A Main, with the perennial A Mainers, Jeff and Mark.
Bubba set the pace at first on yellow, but Blue brought him down to reality, Mark and Jeff kept their consistency.
Mark had 11 laps in hand over Jeff and 12 over Bubba going into the last segment.
Jeff turned a 70 on yellow, the best of the day, but not enough as Mark only lost six laps on the Blue gutter.
Bubba faded on white, and Jerry had gutter troubles.
Which led to Dan and Tom coming up from the B Main to take third and fourth overall.
Super Stock Overall Results - 5 minute Mains
1- Mark Smith 262.57
2- Jeff Crabtree 257.02
3- Dan Mueller 256.47
4- Tom Bowman 253.13
5- Bubba Milholen 252.33
6- Dave Mueller 244.18
7- Tim Keevin 228.55
8- Jerry Holley 228.10
Winning car spec sheet, requires Adobe Acrobat!