A race report by Tom Bowman
First round to determine order in the Round Robin

Qualifying - 30 sec run


1- Jeff Crabtree 11.09 laps

2- Mark Smith 10.43

3- Dan Mueller 10.24

4- Tom Bowman 10.13

5- Steve Jones 9.42

6- Dave Mueller 9.32

7- Jerome Holley 8.47

8- Ronnie Jamerson 8.38

9- Tim Keevin 8.15

10- Jerry Holley 7.26

Next race determines the mains placement.

Round Robin - 2.5 minutes

1- Mark Smith 194.41

2- Jeff Crabtree 194.16

3- Tom Bowman 190.19

4- Dan Mueller 180.22

5- Steve Jones 177.33

6- Tim Keevin 167.13

7- Ronnie Jamerson 164.29

8- Dave Mueller 156.07

9- Jerry Holley 149.14

10- Jerome Holley 141.35

This race was a real Enduro, and attrition reared it's ugly head first to race host, Ronnie Jamerson.
His Storm was laid low with a pickup spring problem, which couldn't be fixed short of a rebuild, and left
him running the clock, instead of racing. Steve Jones was unhappy with his car during the qualifying
rounds, which resulted in an unusual for him relegation to the B Main. The frequent track calls and car destructive
behavior by the other B Main drivers, didn't slow Steve down...he put on a clinic and every lane scored a 100
or more laps, which no one in the A Main could touch. MASCAR's unique scoring system mean't Steve was
the race winner. The A Main, had it's own drama, in spades. Jeff Crabtree, a longtime winning driver in MASCAR
events for years, was hobbled with a bad pinion gear. Despite several delays, while he and Steve worked on the
Storm, it finally gave up in the last segment. Dan Mueller put in a steady run averaging 90 laps a segment in his
first appearance in a MASCAR A Main. This left the battle between Tom Bowman and Mark Smith. Mark led by 2 laps
after the first segment, but Tom returned the favor and led by 2 after the second segment. The third segment saw
Tom run 100 laps on the White power lane, with Mark losing 5 more laps on the gutter Red lane. The final
segment had Mark on White and Tom on Blue...Mark was up by at least 4 laps over Tom, who struggled mightily
with Blue as in the Round Robin, where he was tied for the lead, going into the last segment on blue, and faded
to third, with Blue's low power and low rails giving him fits. Tom was finally getting a grip with blue, after reducing
the sensitivity on the controller, making his finger quicker in the inner part of the track. After running almost the
complete segment, the TrixTrax lap counter inexplicably lost power! The last segment needed to be re-run, this
added 5 minutes put Jeff out of action, as his pinion stripped with a third of the heat to go. Mark was still setting
the pace on White with a 99 lap total, but Tom's driving improved and was only two laps back at the end of the
segment, but finishing 5 laps up on Mark overall. Mark was distraught, Tom was jubilant and Steve smiling like the Cheshire
cat, put it over on the A Mainers, with a dominating run in the B.
Modified Overall Results - 5 minute Mains

1- Steve Jones 408.12

2- Tom Bowman 386.32

3- Mark Smith 381.35

4- Dan Mueller 360.41

5- Dave Mueller 342.17

6- Tim Keevin 334.22

7- Jeff Crabtree 330.00

8- Jerome Holley 303.09

9- Jerry Holley 283.32

10- Ronnie Jamerson DNS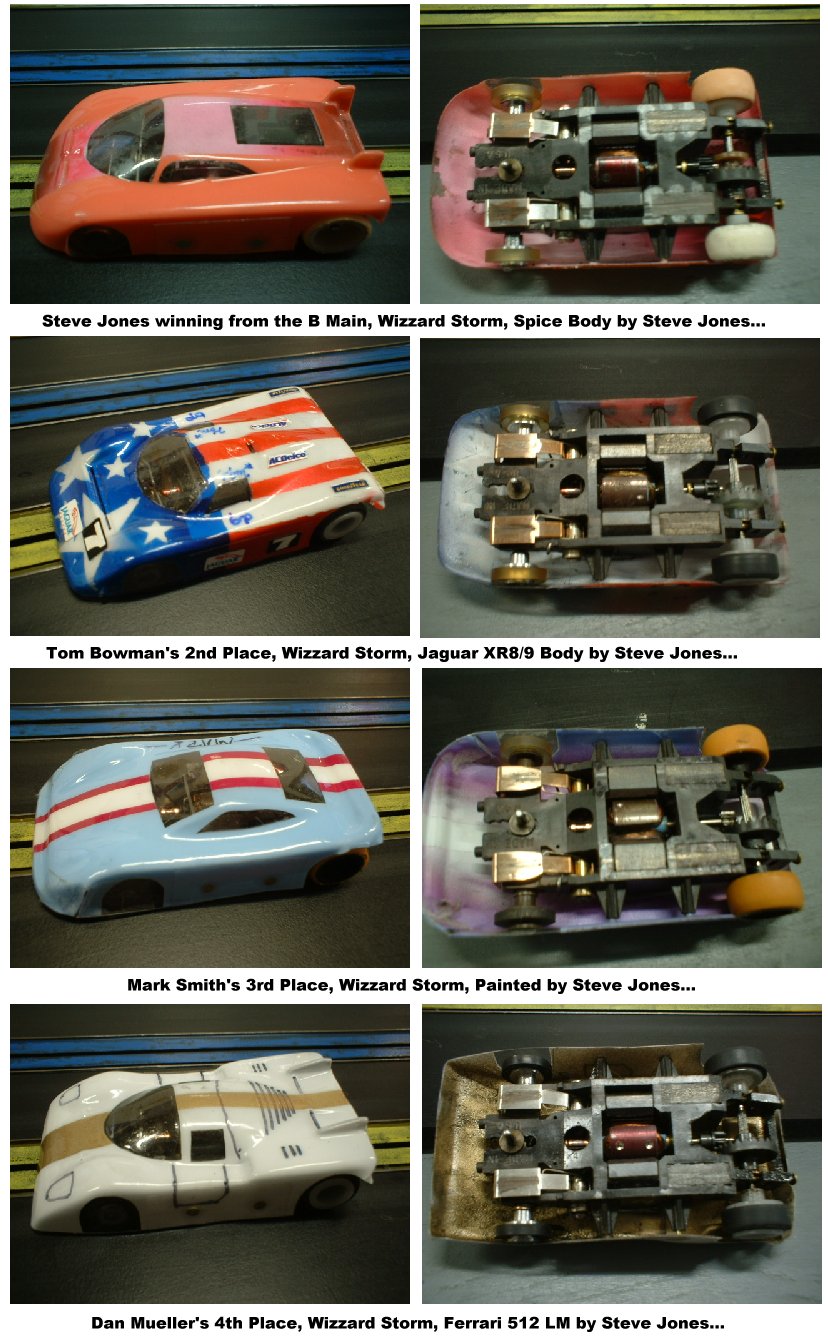 Email Steve, and get your custom painted lexan body: teamxfactor@yahoo.com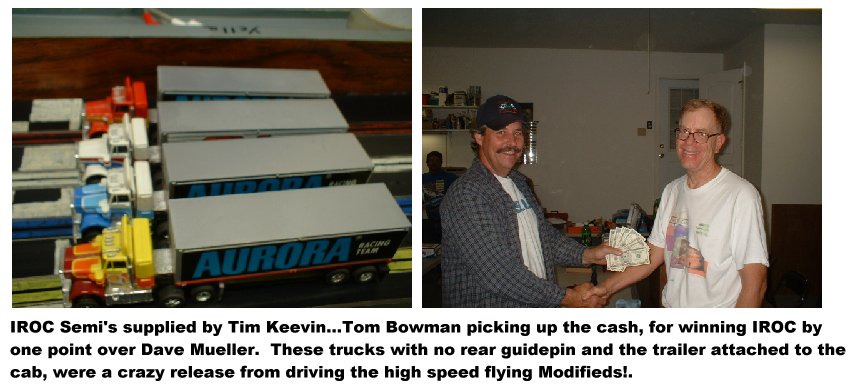 ---
Modified Race stat sheets, requires Adobe Acrobat!
Click here to get the free Adobe Reader