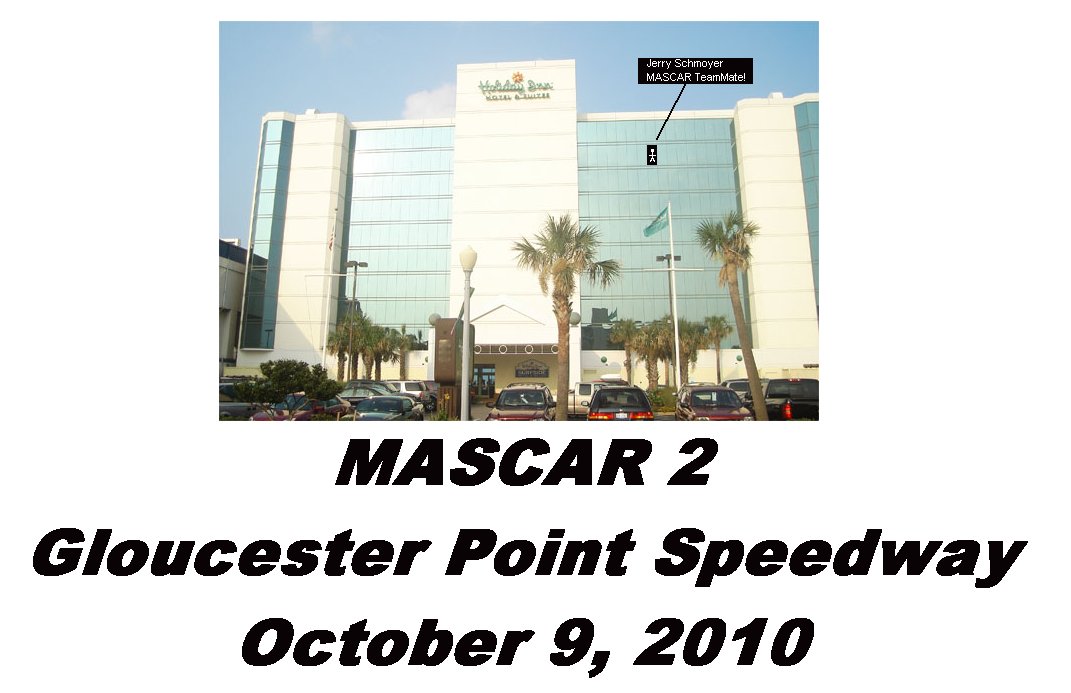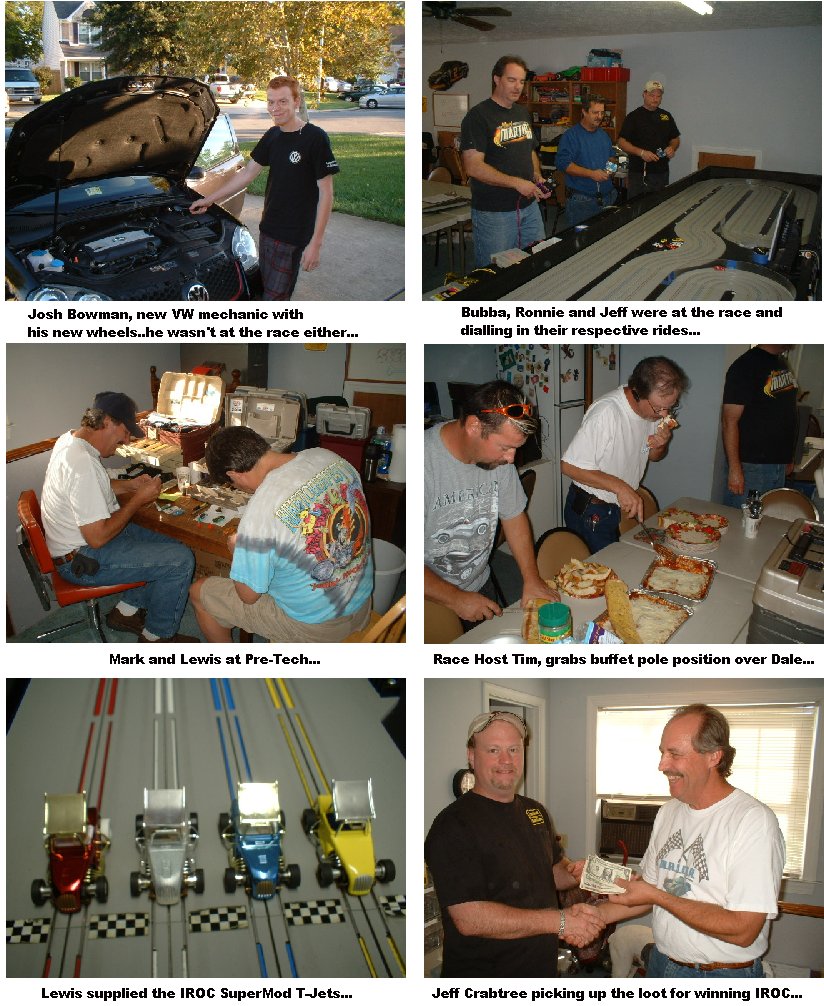 First round to determine order in the Round Robin
Qualifying - 30 sec run

1- Tim Keevin 4.13 laps
2- Jeff Crabtree 4.11
3- Ronnie Jamerson 4.07
4- Dan Mueller 4.05
5- Tom Bowman 4.01
6- Mark Smith 3.31
7- Lewis Wuori 3.26
8- Bubba Milholen 3.18
9- Dale White 3.03
IROC - TrakMate Championship mode: 10 lap races
1- Jeff Crabtree 13
2- Ronnie Jamerson 13
3- Dan Mueller 11
4- Tim Keevin 10
5- Tom Bowman 9
6- Bubba Milholen 8
7- Lewis Wuori 8
8- Mark Smith 7
Next race determines the mains placement.
Round Robin - 2.5 minutes
1- Tom Bowman 86.26 laps
2- Tim Keevin 84.22
3- Jeff Crabtree 84.18
4- Bubba Milholen 83.05
5- Lewis Wuori 81.08
6- Dan Mueller 80.10
7- Mark Smith 79.31
8- Ronnie Jamerson 76.26
9- Mike Hurtado 68.18
10- Dale White 58.09
11- Aaron Sprouse 51.12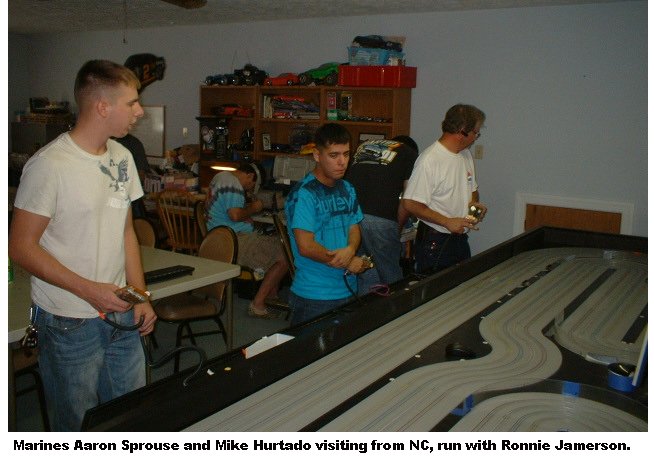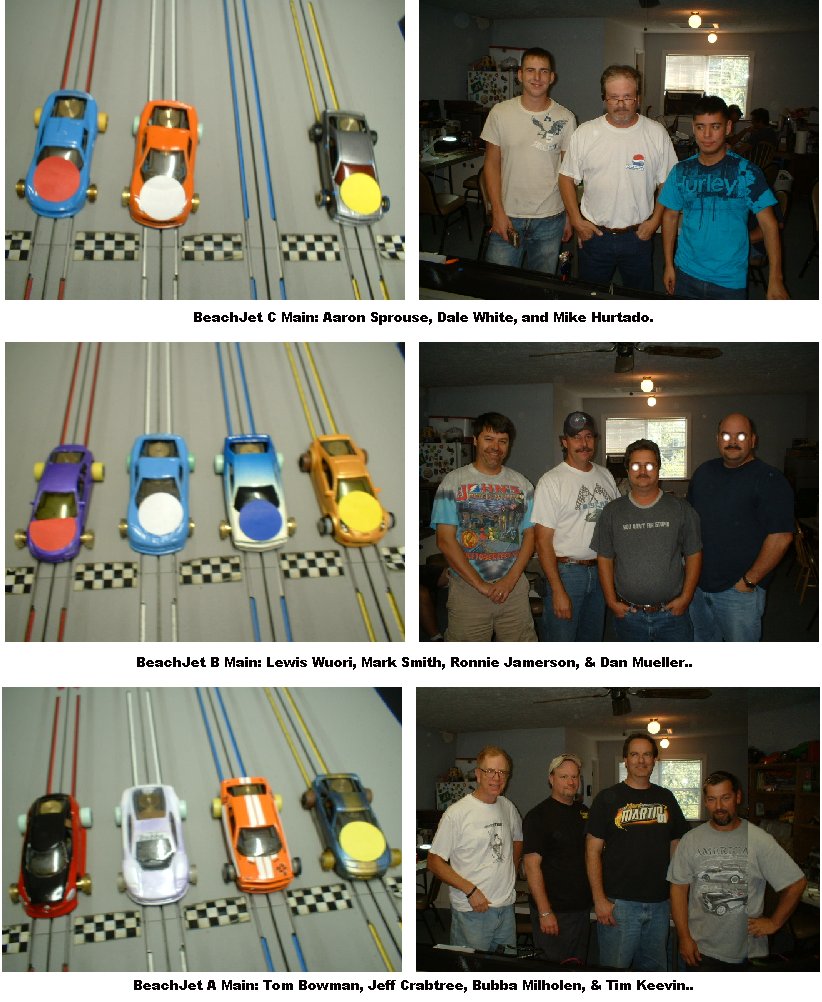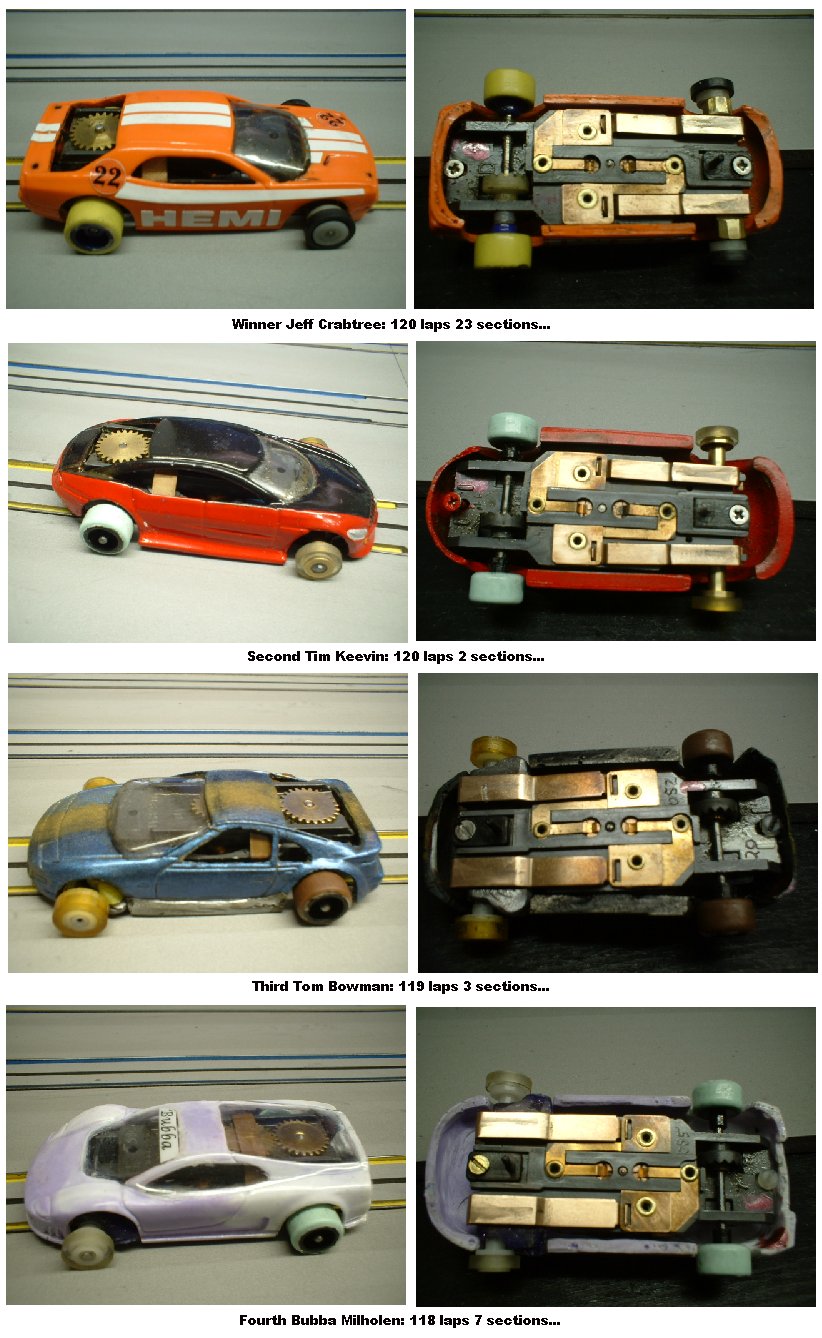 Today's racing at Tim Keevin's Gloucester Point Speedway in Gloucester Point, VA, was truly "Fast & Furious" with three mains of very high quality T-Jets, any one of which was capable (in the right hands) of winning the race. The C Main, started off with visiting Fray racer Mike Hurtado battling Dale White and Aaron Sprouse. It was Aaron's first HO race ever and the first in several years for fellow Marine, Mike Hurtado. His dad, Mickey mailed out cars for them to participate. The B Main saw Lewis Wuori taking the win by a lap over Dan Mueller, and Ronnie Jamerson back another lap. Mark Smith chunked a tire, causing him to be back two laps on Ronnie. The A Main, was a "ding dong" fight the whole race, with Jeff Crabtree gaining a lap on the first segment, held it until the third segment when track owner Tim Keevin caught him. Tom Bowman was down 2 laps at that point and Bubba Milholen another lap back. The final segment say Tom and Bubba gain back a lap on Jeff and Tim, but it wasn't enough and Jeff took the win by sections over Tim.
BeachJet Overall Results - 3.5 minute Mains
1- Jeff Crabtree 120.23
2- Tim Keevin 120.02
3- Tom Bowman 119.03
4- Bubba Milholen 118.07
5- Lewis Wuori 114.18
6- Dan Mueller 113.29
7- Ronnie Jamerson 112.28
8- Mark Smith 110.23
9- Mike Hurtado 109.07
10- Aaron Sprouse 84.09
11- Dale White 83.23
Winning car spec sheet, requires Adobe Acrobat!