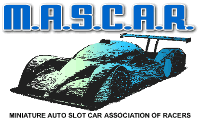 The Collective Chaos 450
M.A.S.C.A.R Race #3

By Wendell Yobear Jones

Sunny and 76? on this Saturday morning January 3rd, 2004 and we find the White Rock Racing Crew (W.R.C.) in route to Hayes Virginia. Today's running the Collective Chaos 450 is race number 3 in the M.A.S.C.A.R. T-Jet Series. We have a house full of some the best racers in the area converging here at the bay crossroads. Representing the NC Crews is Vernon Dew, Florida's Jason Zawacky is on hand, and we also have Tom Bowman and his sidekick Josh. Also in attendance are J.C. Smith, James Kennedy and a host of local racers. This also the first race in the new Collective Chaos storefront. The new facility will get a name change in the near future to "Slot Chaos", but it is well lit with lots of space for pit boxes. Racing will be held on their new Wizzard Track. After and excellent qualifier round it was time for the mains. With 13 people racing it was going to be a little time consuming, but it made for some excellent racing but the best was yet to come. A-Main consisted of Jerry S., James Kennedy, Mike Briggs and Jason Zawacky. Mike Briggs of the White Rock Racing Crew is considered a rookie being that this is his first year for racing T-Jets, but he drives like a seasoned pro. The heat starts and James K. and Mile B. pull out and away from the pact. Mike B. is right on James K. bumper making for an excellent draft after about 5 laps, James made a mistake that allowed Mike B. to take the lead. Mike began to pour it on pulling away from James, but was un-able to lap him. The second heat brought more of the same with James and Mike working each other but this time Jerry has entered the fray. So now there are three cars battling for position. Jerry would have the lead for a minute then James, then Mike until James and Jerry got tangled up allowing Mike to pull ahead to win the heat. The third heat brought some changes with James in the inside gutter. Jason just didn't have the hookup the catch Jerry but Mike was still holding on to a slim lead at the end of three. Heat four would prove to be the deciding factor for the podium. Mike B. was in the inside gutter and had a very rough run, James on the other hand was riding the outside rail like a bullet and was actually drafting Jerry who was in the center lane. The racing was intense. The Final Results are as follows:

Driver			Laps/Sections

Jerry Schmoyer  	93/11		Randy Ramat	81/17		Josh Bowman	68/31	
Tom Bowman		91/24		Tom Adams	80/37		Scott Schmoyer	65/90
James Kennedy	        91/9		Jeff Haines	79/41
Mike Briggs		89/12		Yobear Jones	79/30
Jason Zawacky    	88/17		John Smith	79/24
Shaun Molter		84/42		Ronnie		79/5
Vernon Dew		84/39		Bob L.		70/20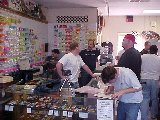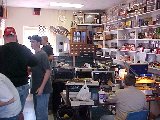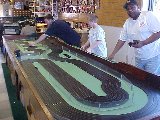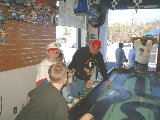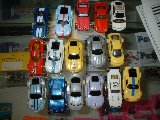 Super Stock by Tom Bowman
The Super Stock race saw 19 entries, as several local racers joined the MASCAR travelling circus. We ran through a 3.5 minute round robin, which resulted in the following:
Jason Zawacky of Florida, pounded the field with a 229 lap total. Shawn Molter's Panther had a 222, James Kennedy's Scorpion also 222, but a few sections back. Then we have Tom Adams: 218, John Smith: 210, Mark Smith: 209, John Rose: 204, Vernon Dew: 203, Ronnie: 200, Randy Ramat: 200, Vince: 198, Ray Smith: 196, Dennis: 183, Ray E.: 182, Tom B.: 181, Rose: 168, Jeff H.: 166, Jason M: 156, Josh: 146
Because of running a half minute longer than normal in the round robin, it was decided to limit the mains to the top 8 in the interest of time. The B Semi, was up first and John Smith proved his mettle by running an 80 lap segment on blue, Mark had trouble on the yellow gutter and Vernon and John Rose tried to keep John insight. Vernon came back in the second segment with a strong 81 on Blue, the two Johns hanging in there and Mark a few behind. The third segment Mark Smith put the hammer down and pulled back some laps with an excellent 81 on white, Vernon was hurting a bit on the yellow gutter. In the last segment, John Smith put a strong run together on white, to bring the total to 312 for the 20 minutes of action. This moved him to 4th overall in the standings. John Rose took 2nd in the Semi with 303, and 6th overall. Vernon finished at 302, 7th overall and track owner Mark Smith finished with 297, proving that track owners are too busy to practice on their own track!
The heavy hitters were in the A semi, with team drivers from Wizzard and Slottech squaring off. The first segment was tight with Tom Adams and James Kennedy running 82 laps with Jason just one behind. Shawn dropped back 3 laps from the leaders, despite being on the power Blue lane. Segment two saw Jason uncork an 83 on the Red gutter, followed by the Wizzard teammates James and Tom. Shawn was dealing with the Yellow gutter and lost another 3 laps. Racing at this level shows no mercy! Jason decided to put everyone on the trailer with a fantastic 87 lap run on White. Shawn got his act together in the third segment and lead the way with a 83 lap total on the Red gutter. Tom dropped off the pace a bit, and James was having problems. In the final segment, Jason stayed consistent, adding another 2 laps over Shawn to finish with 333. Shawn pulled ahead of Tom, struggling on the yellow gutter, to finish 2nd overall in his Panther. Tom was 4 laps back at 316, and James problems continued and he finished with 309, behind John Smith from the B semi.
What a great day of racing, covering the Tjet and magnet spectrum, we've got top competitors in both classes. Come out and join the MASCAR crew at the next race, the very popular HobbyTown venue. ...Tom
Photos by W.E. Jones and T. Bowman
MASCAR Homepage